2023 Chevy Traverse Buyer's Guide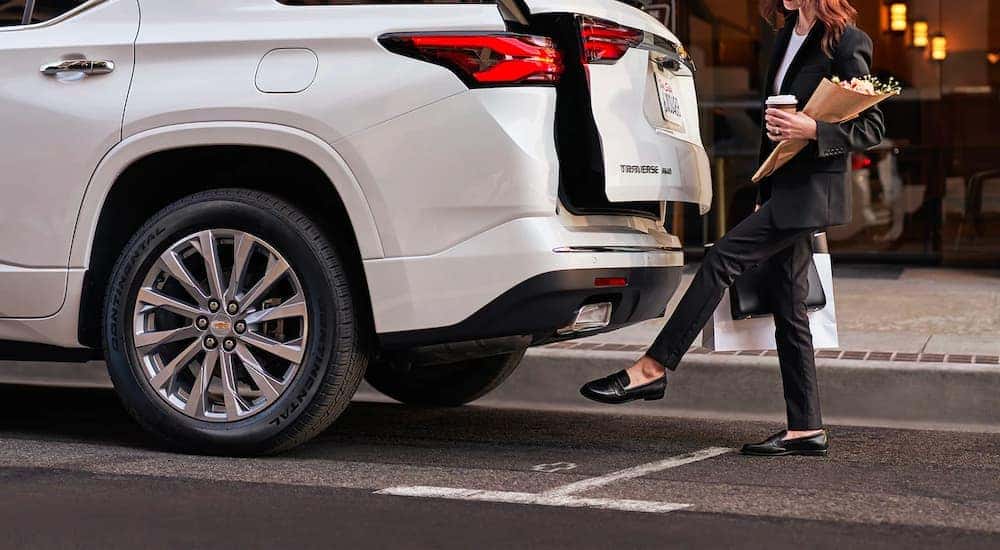 If you're buying a vehicle from 2023, wouldn't it make sense if the car had modern-day features? Why would you purchase a brand new vehicle in the current day if it's already obsolete in more ways than one? This isn't something you have to worry about when visiting Crossroads Chevrolet GMC because we're a Chevy Traverse dealer that can supply you with one of the best SUVs ever.
The 2023 Chevy Traverse is a family-friendly vehicle for many reasons, from its rugged frame to its many safety features. If you purchase a 2023 Traverse, it's important to familiarize yourself with its features––both standard and optional. To make your life easier before you visit Crossroads Chevrolet GMC, we've compiled a buyer's guide so you know what features you should look for when you enter our dealership to get a 2023 Traverse for yourself.
Cargo Space
The first feature of the Traverse we want to discuss isn't a feature per se––it's the cargo space. The 2023 Traverse has plenty of space to store your belongings, whether it's suitcases and camping gear when bringing the family on vacation, carrying sports equipment for your child's team, or driving home with groceries. Chevy also provides optional methods to keep you more organized while also protecting your cargo. Features like the cargo net and retractable cargo shade are great to have, and they're available as part of the Cargo Package.
How much space does the 2023 Traverse have? The 2023 Traverse is similarly sized to its predecessors, which means you'll have a maximum of 98.2 cu.ft. of space. The 98.2 cu.ft. of space you'll get with your 2023 Traverse is when you fold all of the rear rows down, but if you only fold down the furthest row, you'll still have 57.8 cu.ft. of space. If you're traveling with every seat upright, the Traverse still offers a respectable 23 cu.ft. of space, which is more than most sedans.
Comfort Features
The 2023 Traverse is stocked with standard comfort features for yourself and your family. For example, what's the most crucial element to your comfort when driving a vehicle? Your seat. With the 2023 Chevy Traverse, you can replace the standard six-way manually-adjustable driver's seat with an eight-way power-adjustable driver's seat. The seats come with cloth standard, but this can be swapped for genuine leather, the latter of which comes in a perforated style design. The seats are heated on the RS trim and above, and the feature is optional on the LT Cloth. With the RS, you also get the heated steering wheel, which is perfect for those winter drives. Ventilated seats only come standard on trims like the Premier and up.
Along with the positions you can set for your seat, opting for a trim with the eight-way adjustable seating will also include power lumbar support for your lower back. While the passengers in the back won't have power-adjustable seats, the interior is comfortable for all ages thanks to an interior humidity sensor and tri-zone automatic climate controls. The Traverse has an Active Noise Cancellation standard to keep out the sound of wind and passing automobiles, which is important if you're driving with young children and if they're trying to sleep in the back during the car ride home.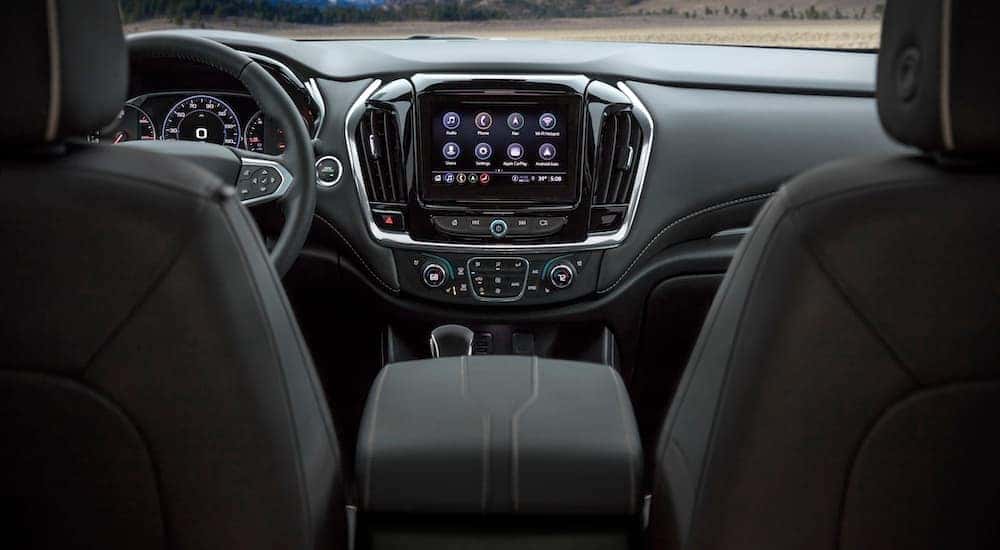 Tech Features
The Chevy Traverse has numerous tech features, some of which are designed not only to be accessible by the driver but by the passengers too. For example, let's say you're traveling with seven additional people; most people can simultaneously charge their phones because each row has two available USB ports. This means if your kid needs to charge their phone or tablet, they can do so from where they're sitting. While they're charging their devices, they can also connect to a safe and fast wireless internet connection thanks to the built-in 4G LTE Wi-Fi hotspot. Many shoppers may pass this off as unnecessary because most people have data plans for their cellphones, but there are still plenty of reasons why you should have a safe and secure internet connection in your vehicle in case of emergencies.
The 4G LTE Wi-Fi hotspot is part of the integrated infotainment center, and the Traverse is available with either a seven or eight-inch touchscreen. Having an infotainment center has many advantages and can make your life easier as a driver. For example, the Chevy Traverse has Apple CarPlay and Android Auto, which includes features like Siri that you can activate using your voice, so if someone wants to listen to a specific song, you can simply ask your infotainment center to play it for them. Apple CarPlay and Android Auto have other benefits, too, like built-in navigation and third-party apps, meaning you don't need any external subscription services for turn-by-turn directions if you're driving out of town with the family.
What separates the Traverse from many other SUVs on the market is it has standard wireless Apple CarPlay and Android Auto, so you can keep your phone in your pocket and still have full functionality of both features. You'll still need the USB cable on the base level Traverse if you want to charge your phone, but succeeding trims have a wireless charging pad for your cell phone. If you have the full wireless setup, you won't need to use eight of the two USB ports in the front for your phone, but they are still available for your passenger to use. While some of these features may not seem necessary for families, it's the quality-of-life improvements it presents that make the Traverse a parent's best friend.
Safety Features
The Chevy Traverse has Chevy Safety Assist standard, so some of the most sought-after advanced safety features come with your SUV at no extra cost. Aside from Chevy Safety Assist, the Traverse comes standard with Teen Driver—Chevy's assistive educational tool to help teach your teenager how to drive safely. If you have a newly-licensed driver in the house, then activating Teen Driver puts in preset rules like buckling the seatbelt before shifting out of park, volume limits, speed limits, and more. As the parent, you can also set rules through a mobile app, and after your child has returned home, the app will give you a report on how well your child did and if any trouble areas need addressing, like speeding.
With Chevy Safety Assist, the Traverse comes equipped with modern safety features like a Forward Collision Alert, Automatic Emergency Braking, and Pedestrian Detection. Lane Keep Assist with Lane Departure Warning also come standard, but if you want Lane Change Alert with Side Blind Zone Alert, Rear Park Assist, and the Rear Cross Traffic Alert, you'll have to spend extra to add it to the base level or purchase a higher-tier trim like the LT or RS.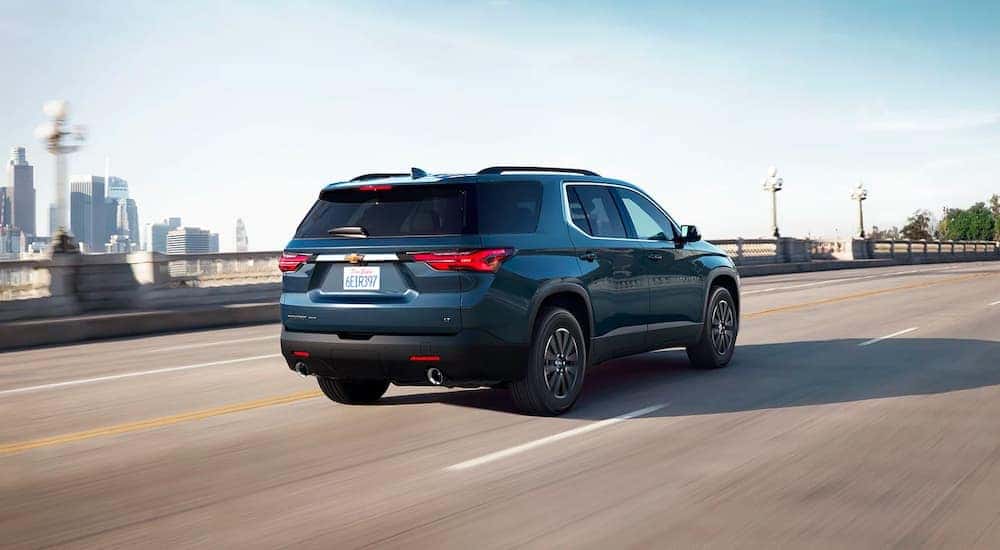 A Quick Tip
Before you visit our dealership, you should consider what kind of features you're looking for so that when you come in, our team can quickly show you excellent new and used options that have what you need. Knowing what you're looking for before you visit a dealership can help make the process easier for you, but that's not to say you shouldn't come by to check out what we have in stock and take the Traverse out for a test drive. The Traverse is one of the best SUVs on the market, and we are one of the best dealerships, so visit Crossroads Chevrolet GMC to find your model today.