4 Top Selling GM Models to Grab Used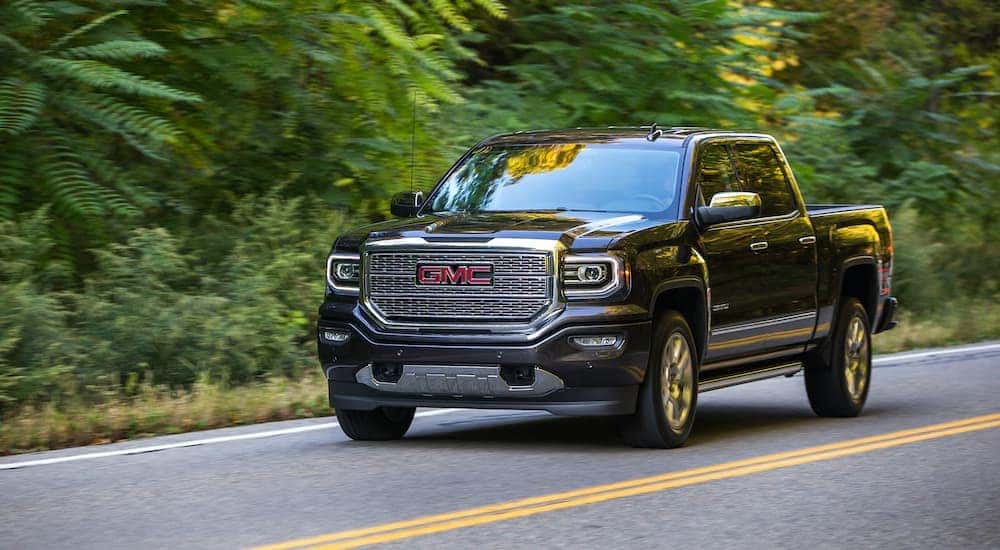 Founded in 1908, GM is one of the longest-running and most trusted automobile manufacturers in the United States. When the lineage of the American automobile is discussed by enthusiasts and historians, General Motors is one of the first names mentioned, as is the reputation they've maintained for over a century. From the trucks that graced the earliest highways to the factories of Detroit, which helped solidify the location as Motor City, GMC has been there and still exists as a pillar of tradition. You can embrace this fine American tradition by visiting the many options that are available at a used GM dealership. No matter what you might be searching for—be it power, performance, or practicality, there's a used GM model that's perfectly suited for your needs.
#1 – The GMC Sierra
It was in 1916 when a GMC truck crossed the country in a vivid display of the vehicle's reliability. The same quality is available today, and the GMC Sierra is the type of truck that is meant for hard work and rugged jobs. With a towing capacity of up to 13,300 pounds, depending on the model year and configuration, and a variety of 4×4 off-road variants you'll be running over the competition and crushing any job or obstacle that might impede you.
With such a lineage to maintain, you might be wondering what kind of power the Sierra packs. Not to worry, GMC has you covered. Under the hood are a variety of options for taking on the world, particularly GM's famous big-block V8 engines. If you have some heavy-duty chores to do, you can choose between a 355-hp 5.3-liter V8 that boasts 355 HP or a 6.2-liter that pushes no less than 420 HP. All engines are locked and loaded, not to mention equipped with durable automatic transmissions that won't fall short of success.
With proper maintenance, a GMC Sierra will give back whatever you decide to give it and can stick it out for well over 200,000 miles. A certified pre-owned GMC is also backed with a 6-year/100,000-mile warranty, so don't worry about working too hard or playing harder. With the lower price for buying used, this is one investment that's too good to ignore.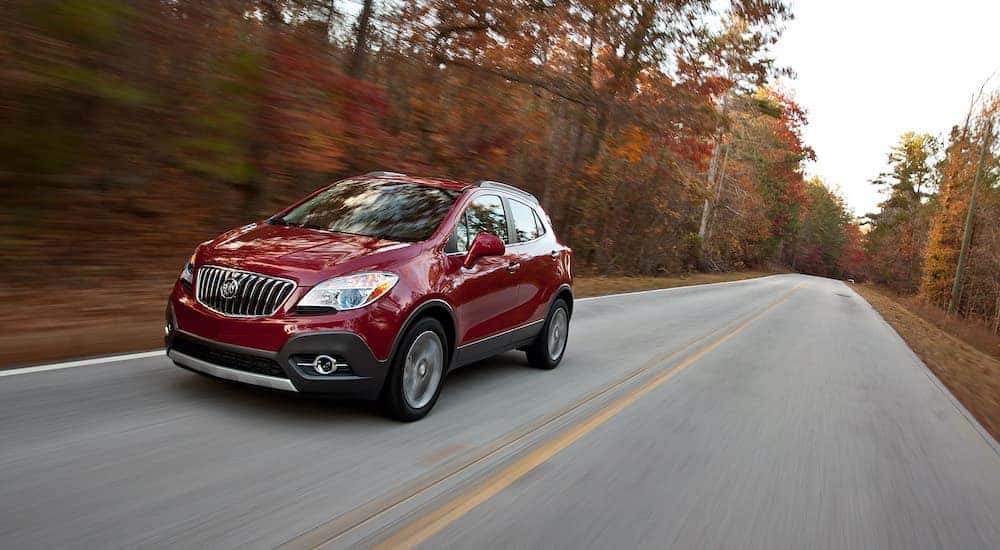 #2 – The Buick Encore
The past few decades have witnessed the SUV take the place of both the station wagon and minivan as the ideal family vehicle. Combining a comfortable interior, superior fuel economy, and convenient storage space, the SUV's popularity has only grown larger as the years have gone by. However, some drivers are still somewhat apprehensive about purchasing one, as many prefer the handling and compact size associated with sedans.
The compromise of both worlds can be found in the 2022 Buick Encore. Combining the size and shape of a midsize sedan with the versatility of an SUV, the Encore caters to the driver who wants it all but all too often can't find it. The Encore is powered by a 1.4-liter four-cylinder engine and a six-speed automatic transmission for a cost-effective ride that's just as economical. A combined 27 MPG rating means your daily commute and weekend activities will be easy to accomplish, and you won't be emptying your checking account at the pump.
Whether you're hitting the beach, taking the kids to soccer practice, or stocking up on provisions for the week, you'll have no trouble fitting everything in its proper place. The Encore seats five passengers comfortably and possesses almost 50 cubic feet of storage space. A comfortable interior with dual climate control will make your commute a joy to undergo, and with an affordable price tag, you'll be able to put aside a little something for your savings.
#3 – The Chevrolet Malibu
In the era of the muscle car, Chevrolet reigned supreme as one of the purveyors of peak performance. This reputation has continued throughout the decades and can be found today in the 2022 Chevrolet Malibu. One of GM's highest-selling and most reputable models on the road today, the Malibu is the sedan for the everyman. The Malibu comes standard with a 1.5-liter Turbo four-cylinder engine that generates 160 HP, which means you'll be getting to work on time without any delays. If you play as hard as you work, then you don't need to burden yourself with the stress of overpaying at the pump. The Malibu is adept at fuel efficiency and is rated a combined 32 MPG. The Malibu possesses a fuel tank that holds almost 16 gallons of gas, so you'll be going over 400 miles in between fill-ups.
Chevrolet has their eye on safety—most notably yours. A reputation brought about by a four-star safety rating is reinforced by ten airbags, a rear vision camera, as well as the StabiliTrak system. Life, much like the weather, can be tumultuous and unpredictable. Stabilitrak ensures that you'll maintain control of your car when road conditions are less than favorable.
With its emphasis on safety and an affordable price, a used Malibu makes for an excellent car for teenagers to learn to drive in. It's important for young drivers to understand the difference between performance and practicality and why getting what you need is sometimes better than what you want.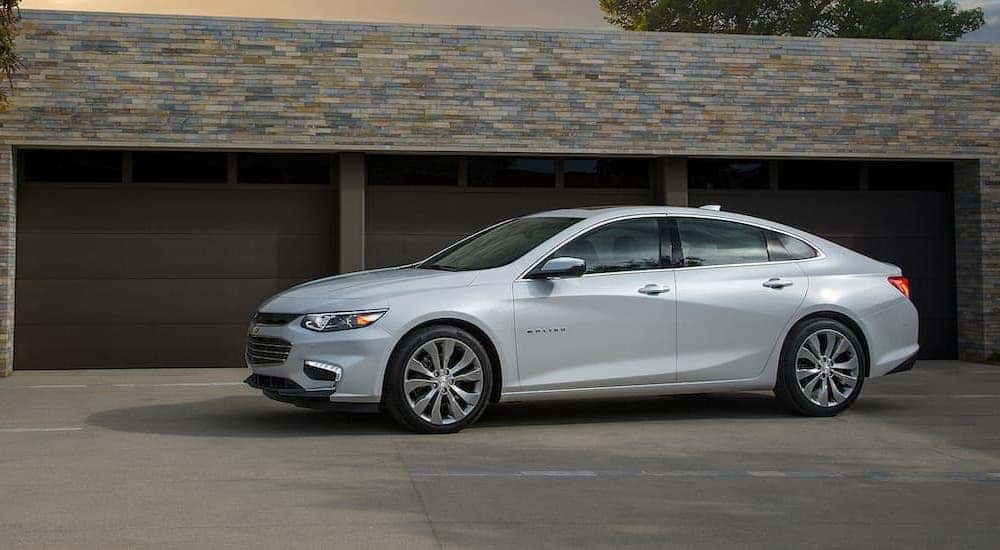 #4 – The Cadillac XT5
There're a few words that come to mind when someone mentions Cadillac by name. Ever since the 1950s, the brand has been synonymous with luxury, class, and sophistication. The modern age is no different, and Cadillac continues to turn heads and win affectations from critics and consumers alike. The Cadillac XT5 is just another notch on the belt for the company that brings its own brand of style to the SUV segment.
The XT5 is that rare instance when someone takes a look at the practical and combines it with the extraordinary. The XT5 isn't the run-of-the-mill family-oriented vehicle. While the SUV has become the ideal family car for the modern age, Cadillac proves that old traditions die hard. A turbocharged four-cylinder engine is the ultimate compromise between performance and economy, with 235 HP on one side and a combined 24 MPG on the other. However, if you are looking for ultimate performance, then the XT5 is also sold with a capable 3.6-liter V6 option and all-wheel drive.
Much like its able-bodied competitors, the XT5 still offers the advantages of SUV ownership, with a towing capacity of up to 3,500 lbs and up to 63 cubic feet of storage space. However, this isn't the spartan workhorse built for those who have minimalism in mind. No, this is when the powerful meets the posh. A luxurious leather interior and tri-zone climate control mean that you can rest easy while working hard. After all, why break a sweat and spoil your Sunday best?
Surprisingly, a used XT5 is also quite affordable. With a starting MSRP of under $45,000 when new, this is not only one of the most stylish and versatile vehicles that Cadillac has put on the road, but also one of the most affordable. Buying used allows you to save even more money, so why not get behind the wheel of a Cadillac?