8 Reasons To Be Excited About The Hummer EV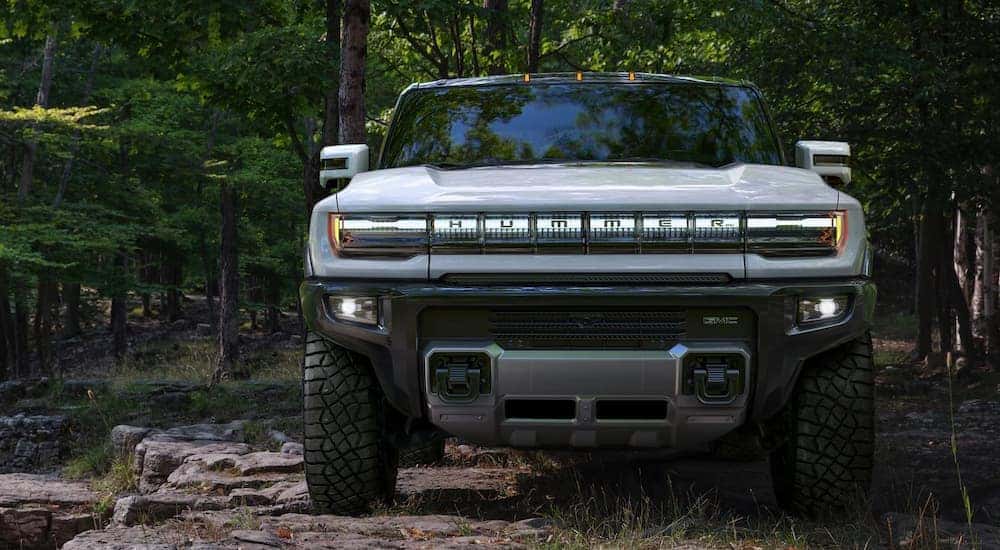 If you haven't already heard, then let us be the first to tell you: the Hummer is back! After more than a decade away (it was discontinued in 2010), the legendary Hummer will be making its return, and it will be better than ever. The all-new 2022 GMC Hummer EV is going to be an all-electric model that offers truly incredible levels of power and performance – GMC calls it "The World's First All-Electric Supertruck," and we tend to agree. While you won't find it at the local GMC dealers in MS until later this year, we're already very excited about it.
Today, we're going to talk about some of the features that have us so excited about the return of the Hummer and give you an idea of what you can expect from this model. The Hummer EV is only the beginning of GMC's exploration of powerful cutting edge EV models, so this is a great place to get a sense of what will be coming in the years ahead. As your GMC dealer in MS, we couldn't be prouder of everything GMC has to offer today, tomorrow, and in the years to come.
Reason #1 – Fully Electric Design
It might seem a bit obvious to start with the electric design of the Hummer EV, but it's really the heart and soul of this incredible new model. The launch version of the Hummer EV features an incredible power system that includes three electric motors and standard all-wheel drive. This powertrain delivers 1,000 hp and 11,500 lb-ft of torque, with the ability to go from 0 to 60 in about 3 seconds thanks to its "Watts to Freedom" launch control system.
It's worth noting that future models will be available with two motors and a lower price tag, but initially, the more powerful three-motor system will be the only one available. After all, it's called a Supertruck for a reason. The Hummer EV has an available 800V DC fast charging feature, which allows it to add 100 miles of charge in just 10 minutes, and the launch model will have an estimated 350 miles of range on a single charge.
Reason #2 – Crabwalk
While the incredible power system might be reason enough to be excited about the Hummer EV for a lot of people, once you look beyond it, you'll find a host of other exciting new features. The new Crabwalk feature is one that we're really looking forward to and helps cement the Hummer EV's place as the upcoming model we most want to take on the trail. This is one of several off-road features that really take the Hummer EV to the next level.
When used, the Crabwalk function allows you to drive the Hummer EV diagonally at low speeds. So if you find yourself in a tight spot while on the trail and need to make a seemingly impossible shift to the side, the Hummer EV can actually do it. We think this is really going to change what people expect from an off-road machine.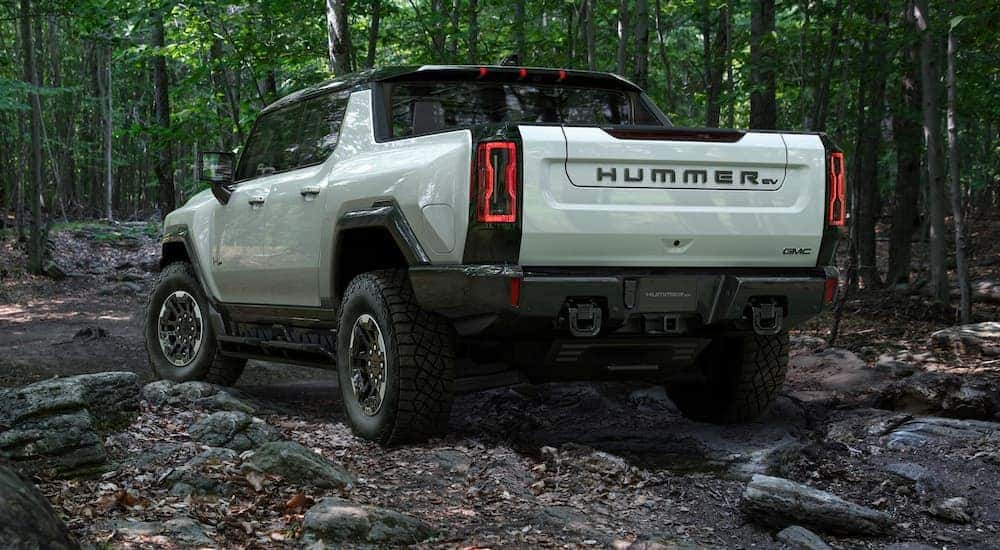 Reason #3 – Extract Mode
Similarly, the Extract mode for the Hummer EV is perfect for situations in which you find yourself in a spot that could otherwise be insurmountable. When activated, the Extract mode uses Adaptive Air Ride Suspension to lift the Hummer EV approximately 6 inches and give you truly incredible clearance when you need it. This allows you to tackle unexpected obstacles or parts of a trail that would be impossible for most vehicles without sacrificing your truck's stability like you would with the installation of a full lift kit.
Reason #4 – UltraVision
Another amazing off-road feature (that could certainly come in handy when driving around town as well) is the available UltraVision system. Up to 18 camera views are available with UltraVision, including waterproof underbody cameras that provide you with a real-time view of what's under your vehicle. These include both forward and rear-facing cameras, which are placed low enough to give you visibility beyond the skid plates that protect the underside. With UltraVision, you can more easily see what's going on beneath your vehicle and decide how to best proceed when exploring the trail.
Reason #5 – Super Cruise
While this feature might not be unique to the Hummer EV, it's still quite new and slowly being deployed by GM. Super Cruise is GM's answer to semi-autonomous driving and includes advanced driver-assistance technology to allow for hands-free driving and automatic lane changing on hundreds of thousands of miles of mapped roads across the US. This is still being rolled out, but the tech is getting more impressive with each passing day.
As autonomous driving becomes the norm, Super Cruise and technology like it will be key in leading the way. And the Hummer EV is one of the first vehicles to take that tech to the next level and make your drive easier than ever before.

Reason #6 – Infinity Roof
Although we could spend a lot of time talking about just how stunning the design of the exterior is overall, instead, we're going to focus on the all-new Infinity Roof. This Infinity Roof includes a modular Sky Panel system with four large transparent roof panels that are tinted to deflect sunlight while still affording absolutely gorgeous views of the environment around you. Since the Hummer EV is ideal for going off-road, this will let you really enjoy the full beauty of nature surrounding you while on the trail.
Further, these four panels are removable and can be easily stored in the front trunk area, with a rear drop glass panel that you can lower. So when you want, you can really open up the cabin of the Hummer EV to feel the world around you. It's a truly remarkable design and makes driving this truck a revolutionary experience.
Reason #7 – Gorgeous Interior
The interior of the Hummer EV is also a true joy to sit in, with a bold design that looks amazing and offers unparalleled comfort. Inspired by otherworldly landscapes and the idea of exploring new planets, the Lunar Horizon interior has a clean look that is welcoming and incredibly spacious. You and your passengers, including those in the rear seats, will have plenty of room, and it has an open feel to it that really lets you enjoy your time with others inside the vehicle.
Durable, all-weather flooring is perfect for going off-road, while the luxurious details throughout the interior remind you that you're in a truck unlike any other. It doesn't feel alien or cold but offers a daring design that makes you want to surround yourself with the look of the future.
Reason #8 – Impressive Tech
We've already talked about a lot of impressive exterior technology, but we wanted to mention a few interior pieces that have us excited. Unlike a lot of trucks with 6-inch or 8-inch infotainment displays, the Hummer EV features a center-mounted 13.4-inch color touchscreen infotainment display, plus a 12.3-inch color driver information center. Along with these two screens, you get a 14-speaker Bose audio system with Centerpoint and Electric Vehicle Sound Enhancement designed to create an acoustic experience unlike anything else on the road.
All of these impressive tech features come together to make something that simply works, letting you enjoy them almost effortlessly. The Hummer EV interior is a great design that puts your needs first while offering features and options that are hard to find in any other truck. This is a cabin that includes everything you expect from a modern vehicle and is ready for any adventure.