A Buick For Every Lifestyle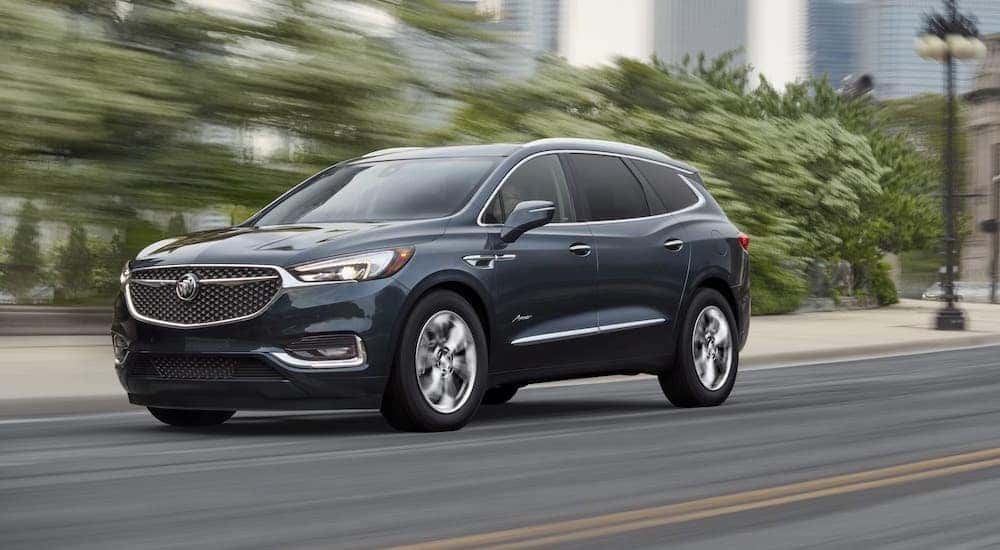 The Buick name has been at the heart of the automotive industry since its inception, and when it comes to refined luxury, heightened performance, and an unmatched level of superiority, no other brand comes close to a Buick. Built with pride, innovation, and upscale finesse, Buick vehicles are first-class travelers, capable commuters, and much more, taking many drivers by surprise at their sheer versatility and power. Contrary to what some may believe, there's a Buick out there to suit virtually any type of driver, so if you're searching for your next favorite vehicle, let Crossroads Chevrolet GMC help. We're one of the top used Buick dealers in MS, and our team can't wait to show you all of the amazing options by this legendary brand. So which Buick is right for you? Let's discover all the ways a used Buick will enhance your travels, whether you're looking for an everyday dependable commuter vehicle, adventurous traveler, or one bathed in extreme elegance and luxury.
Perfect for Your Everyday Commute
When you're looking for dependability, efficiency, and safety, all used Buick vehicles can provide this, but our top picks are the Encore and Encore GX. Your everyday commute may require a lot of time behind the wheel, so if function and comfortability are on your mind, these two impressive options will deliver. With a spacious cabin, including generous cargo space of 48.4 cu.ft., you're able to enjoy the ride in the Encore, even if it's stop-and-go traffic in the mornings. And with impeccable gas mileage of 25 MPG in the city and 30 MPG on the highway, you won't need to stress about having to take time out of your busy schedule to refuel often. A host of safety and driver assist features also help during your everyday travels, as you're able to stay more alert and focused behind the wheel because, let's face it, anything can happen on your drive into work.
Looking for even more space? The Encore GX features an even roomier interior, offering up 50.2 cu.ft. of cargo space and even better gas mileage of up to 30 MPG in the city and 32 MPG on the highway, making it the perfect companion for your everyday drive into the office. Its wide array of tech features, like a 4G LTE WiFi Hotspot, in-vehicle apps, and Alexa Built-In, help you stay connected during your commute. So, if you need to jump on an early call on your way to work or while you're running errands, you're able to do so effortlessly, all from the comfort of your used Buick. You'll also find impressive safety features through Buick's Driver Confidence package to help ensure you're staying secure no matter how much commotion is happening around you during your drive.
If you're looking for reliable and efficient options to accompany you on your everyday travels, the Buick Encore and Encore GX prove that they're ready for anything your day will toss at you. From congested road conditions to long drives into the city, these options will not only get you there safely, but they'll maximize your drive with superior fuel efficiency and stylish comfort. Trust in a Buick to help make your everyday commute easy, secure, and fun.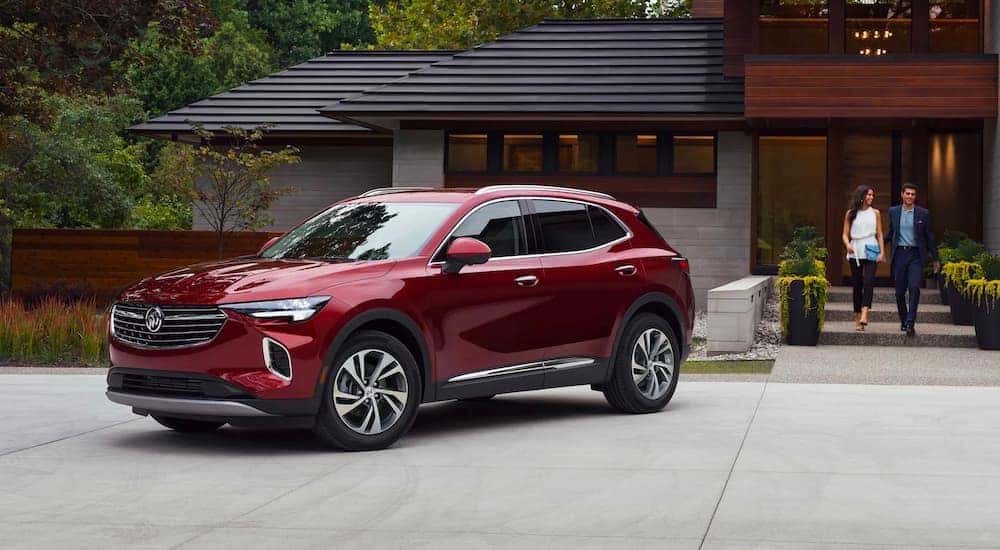 Ideal for Your Weekend Adventures
Working for the weekend? Maybe you have a road trip planned, or you're looking forward to hitting the highway and discovering all that Mississippi has to offer. When you're looking for adventurous style, Buick offers incredible options designed to make your trip safer, convenient, and of course, more enjoyable with the more rugged Envision and the luxurious Envision Avenir. A used Envision offers all you need when you're ready to jet off to your next adventure, like all-wheel drive, a turbocharged engine, and excellent safety features. Travel new roads, and don't worry if they're a little bumpy because this capable used SUV can handle it. With nine advanced safety and driver-assist features standard, you'll be able to drive confidently, whether you're traversing new terrain or you're hitting up your favorite local spots.
If enhanced luxury is tempting you, the Envision Avenir is here to offer all you're looking for in an upscale vehicle. With capabilities to handle tough terrain and long adventures, a used Envision Avenir levels up with an eye-catching style, featuring diamond-perforated quilted seats, a heated leather-wrapped steering wheel, and more refined elements throughout. Upgrade to the Sport Touring Package for a more athletic appeal with black-out features, 20-inch aluminum wheels, and more dark accents. The Envision Avenir isn't just beautiful; it's extremely functional with 52.7 cu.ft. of cargo space, perfect to accommodate all your gear for your weekend excursions.
Whether you're hitting the road for a few days of adventure or you're looking for a vehicle that offers more space, more features, and more capabilities, the Buick Envision and Envision Avenir will provide a heightened experience. With all the power you need, plus added elements of sophistication, Buick proves that it can handle any type of drive, making the brand extremely versatile and popular with drivers today.
Upgraded to Enhance Your Ride
Sometimes you just want all the luxurious features included all in one vehicle, and if there's one thing that Buick excels at completely, it's added luxury. Its used Enclave and Enclave Avenir selection includes only top-of-the-line features to envelope you and your passengers in lavish refinement like never before. From a stunning moonroof and high-end interior appointments to winged LED headlamps and leather-appointed first and second-row seating, the Enclave is built to impress. Perfect for families, this seven-passenger option offers up a spacious cabin with loads of cargo space, plus all the latest tech features to keep your passengers engaged no matter where your destination takes you. Added performance features like a solid 3.6L V6 engine allow it to tow up to 5,000 lbs, making this particular used option not only extremely intriguing with its stunning style but also pleasantly efficient with its enhanced capabilities.
With a signature grille and even more elevated appointments, the Enclave Avenir showcases an upscale design paired with a confident ride. Through its upgraded suspension, you're able to enjoy a more comfortable ride, no matter the road conditions, and with a spacious cabin accented with all the sophisticated appointments you could ever wish for, traveling anywhere in the Enclave Avenir is a treat. This luxury used mid-size SUV also provides efficient functionality with enough room to accommodate all your passengers and their belongings without infringing upon their comfort. With all the elegant details throughout, you're sure to enjoy your ride in this stylish option.
With more space, more capabilities, and more style, the used Buick Enclave and Enclave Avenir show that Buick can compete with even the most luxurious options in the industry. Marked by the iconic Buick name, which emanates confidence, refinement, and performance, these capable vehicles are sure to offer you the most enhanced ride to make even the most mundane commute more exciting.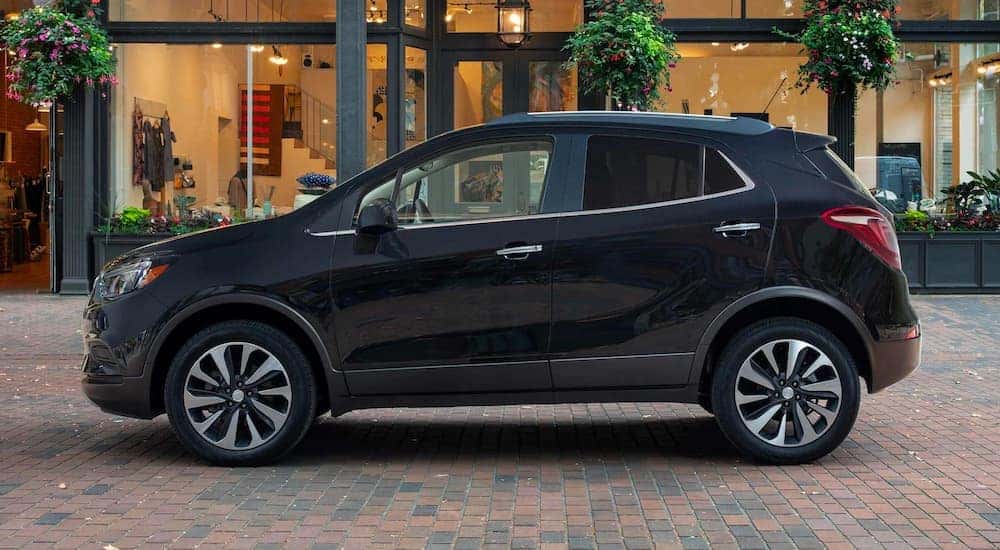 Shop for Your Next Used Buick at Crossroads Chevrolet GMC
Whether you're searching for a reliable everyday commuter, a road trip adventurer, or a luxurious travel companion, Buick has a used vehicle for you, and at Crossroads Chevrolet GMC, we can't wait to help you find the right Buick. Browse our online inventory or stop by our showroom, so you can get an up-close and personal look at these remarkable used Buick options. Test drive a used Buick Envision, luxurious Enclave Avenir, or efficient Encore to find which Buick complements your lifestyle perfectly. There really is a used Buick out there for everyone, so explore what we have to offer at Crossroads Chevrolet GMC and get ready to enhance your travels in a Buick.