A Crop of Exciting New Features Awaits in the 2022 GM Lineup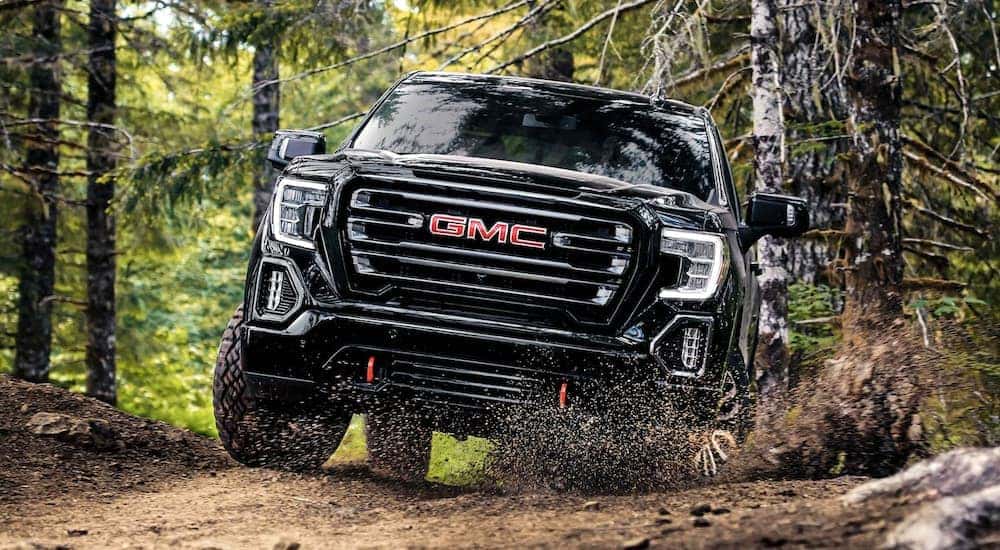 A trip to our Booneville GM dealership is pretty eye-opening for new vehicle buyers, especially if it's been a while since you've bought one. Today's current models are a study in technological advancement, with features that are so futuristic and intuitive, they almost drive themselves. Lucky for you, though, these vehicles are still designed to be driven and enjoyed by everyone, from enthusiasts to commuters.
Whether you're on the hunt for a full-size pickup with advanced off-roading capability or you're more of a premium SUV fan, the Chevy and GMC lineup of cars, trucks, and SUVs is filled with choices for buyers. The 2022 model year lineup comes with some exciting new tech features that we can't wait to get our hands on, but even with all that technology, General Motors keeps an eye on style with a huge selection of colors and body styles.
What are you looking for in your new 2022 vehicle? Everyone from technophobes to technophiles will find a vehicle that ticks all their boxes in this newest crop of General Motors offerings. Discover the most advanced technology and the latest safety innovations within the dynamic 2022 GMC and Chevy lineups.
The Latest From Chevrolet
The name Chevy evokes lots of nostalgia for aficionados and everyday drivers alike, thanks to its over 100-year automotive manufacturing history. Iconic nameplates like Corvette and Silverado undergird a lineup that's known for reliability and quality. What most consumers don't realize, though, is how much advanced technology goes into every Chevrolet vehicle.
The 2022 lineup is loaded with technological advancements in just about every category, including safety and infotainment. Even trailering gets a technology boost in the latest model year Silverado. A series of cameras, sensors, and even radar combine to help drivers stay safer and more connected to the driving experience while also providing a boost in convenience.
Driver-assist technology creates a bubble around the vehicle, helping drivers stay alert to changing road conditions. The systems monitor the area in front of, around, and behind for potential hazards, alerting the driver and even performing corrective actions, from gentle steering nudges to emergency braking. These systems will never take the place of responsible driving, but they can help vehicle operators stay more aware and perform challenging maneuvers, like highway lane changes, more safely.
Chevy also uses advanced camera technology to simplify the trailer hook-up process, with 360-degree bird's eye view cameras giving drivers live feeds on dash-mounted touchscreens, eliminating the need for a second person to vector them in for a successful hitch. These cameras also help drivers back out of parking spaces and driveways more safely.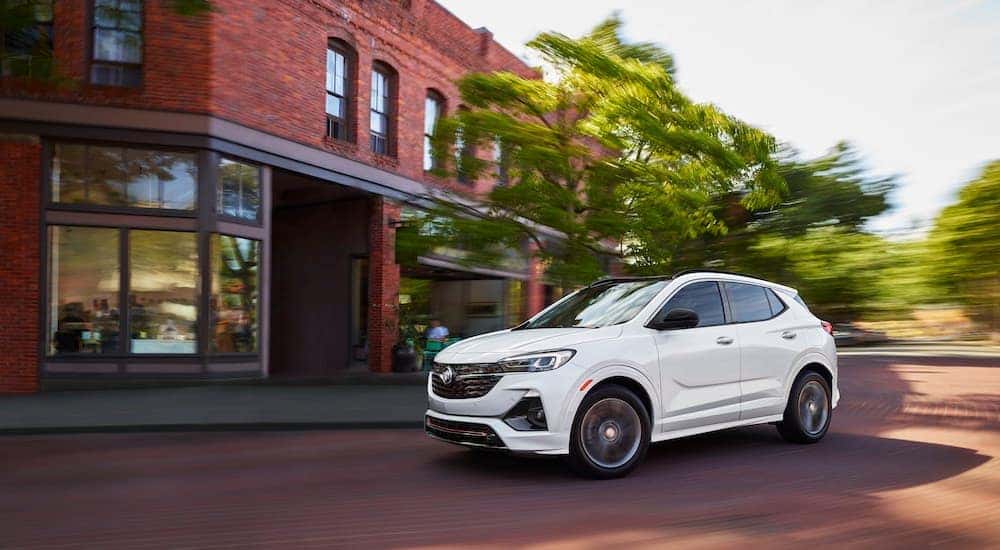 Buick Is Synonymous With Luxury
Most Buick fans already know that the brand is synonymous with premium American luxury, but what may not be as obvious is the automaker's commitment to a technology-based approach to designing upscale comfort and convenience features. Not only are Buick crossovers beautiful to look at – they're also extremely technologically advanced. What does luxury have to do with technology? As it turns out, a lot.
The science of ergonomics is a point-of-focus for Buick engineers. Driver comfort takes center stage, with multi-setting seating configurations designed to put controls within easy reach while contouring to the body for ultimate comfort. Even rear seat passengers benefit, with available heated rear outboard seating.
Features like an innovative temperature-sensing automatic heated steering wheel and Active Noise Cancellation serve as examples of Buick's attention to detail. Optimal cabin environments are high on Buick's list of customer deliverables, as the company believes that driving enjoyment is directly related to cabin quality. Road noise and vibration cause drivers to fatigue faster, which is why suspension and noise-canceling are so high on the list of must-haves.
Small technological touches, including wireless Apple CarPlay and Android Auto, as well as a massaging seat feature, also contribute to a high-quality driving experience. There's even a Park Assist feature to take the stress out of parallel parking. The system takes over the steering, braking, and throttle control to safely guide the vehicle into the space – eliminating the dreaded "bumper kiss."
Extra Bells and Whistles for GMC Buyers
GMC occupies a unique position in the family of General Motors brands. Historically known as a truck brand, GMC branches out for 2022, with a dynamic lineup of not only full-size pickups but SUVs as diverse as fuel-efficient family cars to all-electric powerhouses designed for serious off-roading. GMC is the brand for you if you seek optimal capability, luxury, and advanced engineering.
The Sierra full-size pickup truck lineup is refreshed for 2022 but still includes customer favorites like the Denali and the AT4 off-roading trim. These specialty trucks embrace their respective genres, with the Denali focused on next-level luxury and the AT4 prepped to conquer even the most rugged trails. GMC also includes innovative features, like the MultiPro Tailgate, which converts into a bed access step, a load stop, and a work surface.
The Sierra is the ultimate tailgating companion, especially when it's equipped with the optional bed-mounted Kicker Audio System. This Bluetooth-compatible system works independently of your vehicle's power system, so it operates when the truck is turned off. It's water-resistant and durable, making it perfect for use even during the most remote backcountry camping adventures.
GMC is getting in on the electric vehicle (EV) revolution with the release of the 2021 Hummer EV pickup. Featuring 1,000 horsepower and the incredible ability to "crab walk" or literally travel diagonally, the Hummer EV eradicates range anxiety with a 350-mile range capability on a full charge. Drivers have instantaneous access to over 11,000 pounds of torque, making the Hummer EV unmatched in towing and hauling.
All that performance and capability are matched by even more interior technological advancements. Features like a 13.4-inch infotainment touchscreen and UltraVision, a 17-camera monitoring system that displays just about every exterior angle and approaching trail condition necessary to keep drivers in firm control, are also included.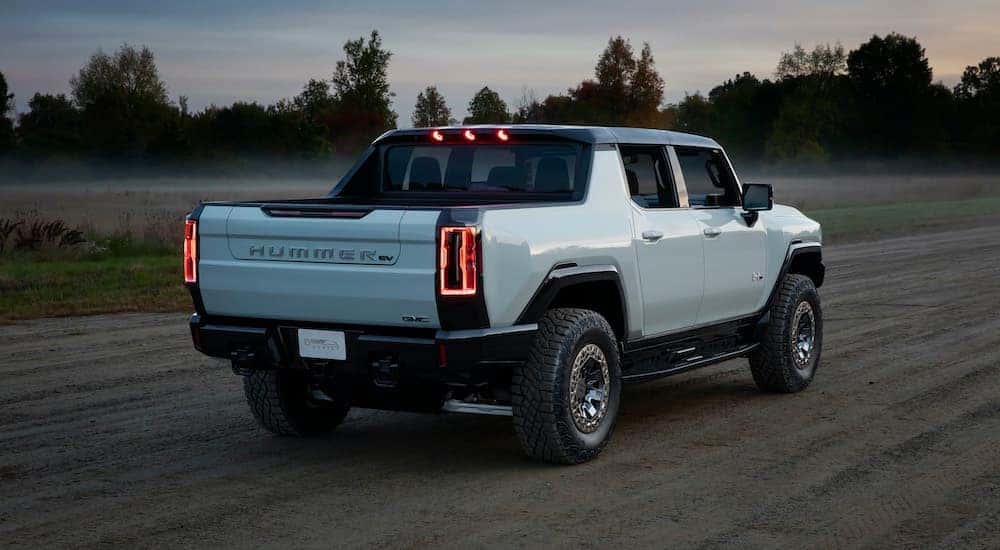 GM Is Synonymous With Technology
Buyers in the hunt for a 2022 model with extra tech features are in luck because Buick, Chevy, and GMC vehicles contain all the latest safety features and tech-oriented comfort and convenience equipment. Add to that all the smartphone connectivity capability of this most recent lineup, and you'll wonder how you ever lived without it.
These days you can start your car, monitor your teen driver, and call for emergency assistance right from your phone. You can even send navigation data right to your vehicle's touchscreen, so the journey is plotted before you slide behind the wheel. At first glance, these extras can feel like, well, extras, but as you get used to having them at your fingertips, you realize how much time and effort you're saving.
One of our favorite parts of the sales experience is watching the look of amazement on buyers' faces as they realize what their 2022 vehicles can do, and more importantly, how easy it is to get comfortable with the technology. The best advancements are those that make our quality of life better, and that's exactly what General Motors wants to achieve on behalf of its customers.
Elevate Your Ride
A vehicle's basic purpose will always be to get us from Point A to Point B safely and efficiently, but who says you can't enjoy a little back massage, stream your favorite podcast, and get some help settling into that tight parking space in front of your office building? These vehicles are equipped with technology that makes all these actions, and more, entirely possible. As we move toward the next decade of manufacturing, look to General Motors for quantum leaps in electric vehicle (EV) technology. The company is at the forefront of engineering EVs like the Hummer that goes farther, faster and provides environmentally-friendly options for buyers looking to part ways with traditional combustion motors and the associated emissions that contribute to climate change.