A Peek at Chevy's Most Talked About Models for 2023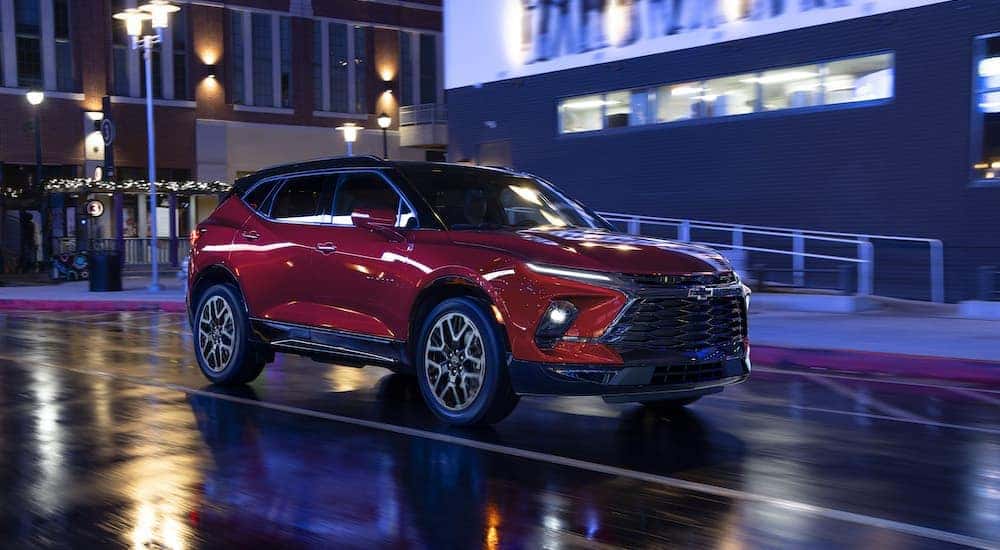 Each year, we turn our attention to the auto industry and what exciting new models and features are being introduced to revitalize our travels in every way. Chevrolet is perhaps one of the most popular automakers in existence, and as the years have gone on, the brand has proven that it's in it to win it. From electric vehicles that showcase excellent range and top-of-the-line features to powerful pickups that get the job done when others struggle, Chevrolet designs vehicles that perform. If you're in the market for a new vehicle, Chevy offers some of the most exciting models around for 2023, packed with power, loaded with innovative tech, and emanating Chevy reliability out of every crevice. At Crossroads Chevrolet GMC, we're your top Germantown Chevy dealer, and if you're ready for something new, we invite you to check out these 2023 Chevys.
Spectacular SUVs
Chevy's most alluring SUV receives a revamp for 2023. The Chevy Blazer is unquestionably beautiful, and with enhancements to its overall design and tech features, it's more intriguing than ever. A new front fascia and grille design, dazzling LED headlamps, running lamps, and taillamps, plus a new slew of exterior color schemes usher in this engaging model. Refreshed 18-21-inch wheel designs and show-stopping curves make the 2023 Blazer one of the most impressive midsize SUVs available. Inside, it's been enhanced to feature even more advanced tech, including a new 10-inch diagonal touchscreen across the trim levels, as well as wireless charging capabilities, an available 4G LTE Wi-Fi Hotspot, and more helpful tech features to maximize your travels.
The 2023 Equinox experiences a boost in horsepower in its 1.5L turbocharged engine, with 175 horses leading it forward. This compact SUV has been a crowd favorite for decades, and with its sole engine able to deliver a more exciting experience, it just keeps getting better. Large-scale haulers, the Tahoe and Suburban, can also be enjoyed with enhanced tech, with Super Cruise hands-free driving capabilities available on more trim levels for 2023. You'll also find that these models are even more stylish than ever, with an accessory grille available on some of its top-tier trims. Chevy's electric utility vehicle, the Bolt EUV, can be enjoyed for a lower starting price, which helps it appeal to cost-conscious buyers, allowing more drivers to harness electric capabilities.
Honorable mentions go to the upcoming 2024 Blazer EV and Equinox EV, which should be gracing dealership lots later in 2023. The Blazer EV will blend style and efficiency into one compelling SUV, with the famed Ultium battery platform delivering heightened performance on the road. The crowd favorite Equinox dons its EV powers, offering a ride quality that's unlike any Equinox you've ever driven before. From captivating design features to an overall better experience on the road, the Equinox EV is expected to be a surefire winner.
From full-size family transporters to compact commuters, the SUV selection from Chevy is simply outstanding. What's more is that with some of your favorites being outfitted with electrifying capabilities, Chevrolet is setting the tone for the future of our travels. SUVs are undeniably popular on the roadways, and with Chevy's arsenal of exciting and versatile options, especially in its 2023 lineup, your ride is about to be absolutely exceptional.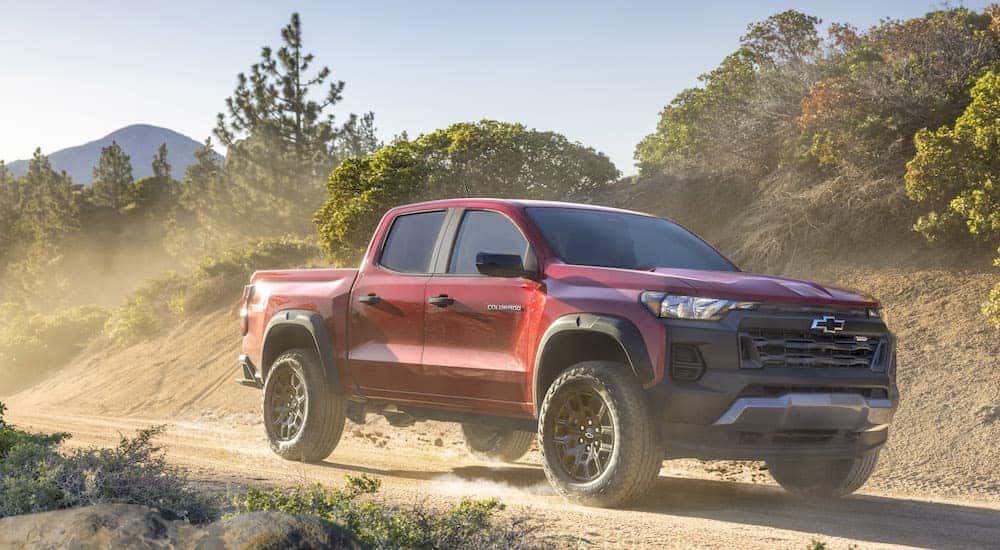 Top-Performing Trucks
The Chevy Colorado enters into its third generation for the 2023 model year, armed with intense capabilities, plus design and tech that will add incomparable value to this midsize pickup. Three off-road models will be available, including the industry-first Trail Boss, while a selection of interior trims will reinvent the way you enjoy your travels. Whether you're seeking out a work truck or an everyday cruiser, the Colorado is equipped to handle any drive. It showcases an increased cargo volume, as well as a first-in-segment tailgate storage system, mid-position tailgate, and power outlet available.
It's functional, practical, and ready to take on the day. The 2023 Chevy Colorado includes a class-leading standard 11.3-inch infotainment display, sporty air vents, plus unbeatable technology to make any job easier. Its overall design, inside and out, has been enhanced to feature more refined elements, placing it much in line with its competition, making the Colorado one of the best midsize trucks to trust for any mission. From enhanced camera views to cutting-edge connectivity, the Colorado is loaded up with all of the features drivers need during their travels. It's no secret that the Colorado can handle itself on the road and off, and with selectable drive modes at the ready, conquering any type of terrain is a given in this fierce machine.
Another truck that's stunning crowds is the first-ever Silverado ZR2 Bison, armed with exceptional off-road capabilities never seen before in this particular pickup. From an AEV (American Expedition Vehicles) front bumper, skid plates, and steel rocker panel protection to exclusive wheels and 33-inch mud-terrain tires, the Silverado ZR2 Bison is ready to take on elements that other trucks can't. Another Silverado model that drivers are excited about is the 2024 Silverado EV, which will make its way to dealerships in the fall of 2023. This model harnesses electric power to propel it forward with ferocity, with a 0-60 mph time of under 4.5 seconds, an estimated 400-mile range on a single charge, and a towing capability of up to 10,000 lbs.
The truck lineup from Chevrolet has always been remarkable, and 2023 is no exception. From the new and improved midsize Colorado to the enhanced Silverado ZR2 Bison and the highly anticipated Silverado EV, there's no stopping this automaker from drawing a crowd. From work to play and everything in between, Chevy trucks are designed to excel.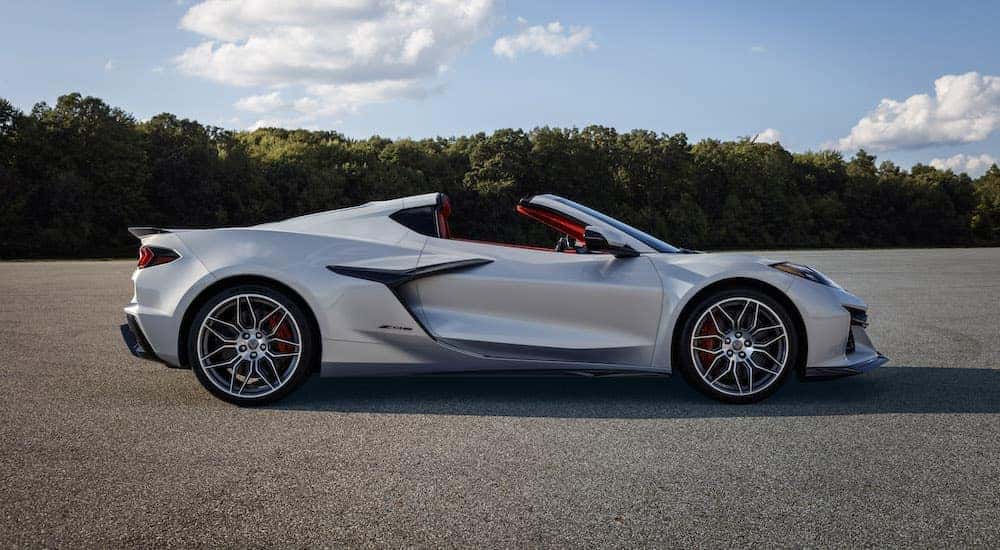 Sports Car Charisma
If there's one thing we know about Chevy, it's that the brand sure knows how to design a sports car, and the Corvette is a stunning example of the automaker's greatness in the industry. The 2023 Corvette Z06 takes everything we love about this famous performance vehicle and elevates it to track star status. Its powerful V8 jets off the line with an astonishing 670 horsepower, propelling it from 0-60 mph in only 2.6 seconds. Creating quite a competition between exotic rivals, like Lamborghini and Ferrari, the Corvette's presence is beyond intimidating. Stopping you in your tracks with its legendary, aerodynamic design, Chevrolet takes performance to a whole new level in this Corvette superstar.
Impressive Options in the 2023 Chevy Lineup
When it comes to elevating your experience in the driver's seat, Chevy delivers. No matter if you're on the hunt for a family-friendly SUV, work-oriented truck, or supercharged sports car, there's something to meet your needs and budget in the Chevy inventory. At Crossroads Chevrolet GMC, we understand what Germantown drivers are looking for in their vehicles, and we also know that our drivers are diverse with varying driving needs. That's why we aim to please, with a lot that's fully stocked with some of the best options in the industry.
Whether you want to experience an EV to amplify efficiency during your travels or you have always envisioned yourself behind the wheel of a Corvette, the 2023 model lineup won't disappoint. There's something for everyone in Chevrolet's excellent selection of new vehicles, and we have everything you're looking for to maximize your travels here on our lot. Stop by and see what we have to offer, find the car of your dreams, and make the most out of any ride in a Chevy.