Affordable SUVs Near Tupelo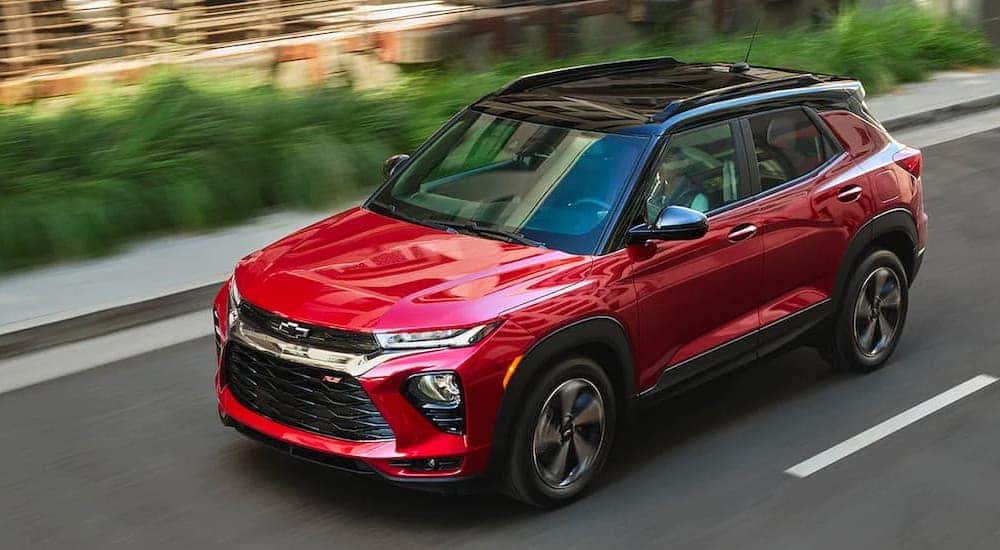 Are you currently in the market for an SUV and are looking for a reliable vehicle at an affordable price? At Crossroads Chevrolet GMC, we supply all the latest vehicles from GM's lineup, including the newest SUVs from Chevy and GMC. Located in West Corinth, MS, we're the best Tupelo GM dealer around, as we're less than an hour away and provide first-rate service to every customer that visits our dealership. Chevy and GMC produce a wide range of vehicles, and most importantly, these vehicles don't have to cost a large sum either. We've picked our favorite SUVs that you'll find at our dealership, so read on further to learn about our top selections that we recommend to you.
The first SUV that we recommend comes from Chevy, and while there are a few options when perusing the "entry-level" models, this one stands out for a few distinct reasons. Starting at only $19,000, the 2021 Chevy Trailblazer is the most affordable SUV in the GM lineup. It exceeds expectations in several ways, never once giving the impression that it is a cheap vehicle. The second SUV that we recommend to drivers is the 2021 Buick Encore GX, which is Buick's entry-level model. Both of these options have the opportunity to become your next vehicle, but let's talk more about the specifications of each one to learn which model to purchase for you and your family.
2021 Chevy Trailblazer
Earning its place as one of the most feature-packed SUVs that you can purchase at a price tag under $20,000, the 2021 Chevy Trailblazer may just be the perfect choice for your family. There are two powertrain configurations for the Trailblazer, both featuring turbocharged engines. Firstly, a 1.2L three-cylinder comes standard with the Trailblazer and is paired with an efficient Continuously Variable Transmission (CVT). Although its 137 hp and 162 lb-ft of torque aren't likely to win any races, this SUV earns its place amongst the most fuel-efficient options out there, no matter which of the two turbocharged engines that you opt for. This base engine isn't offered with all-wheel drive, but you can expect EPA-estimated ratings of 28 MPG city and 31 MPG highway, which should be perfect for getting your family around town.
The second available powertrain configuration features a 1.3L three-cylinder that will come paired with a 9-speed automatic transmission should you opt for all-wheel drive. Otherwise, this engine will be paired to a CVT, just like the base power plant. The performance has a noticeable increase when upgrading to this engine, amping things up to 155 hp and 174 lb-ft of torque. EPA-estimated ratings are even better with this powertrain setup, especially front-wheel drive models, which get 29 MPG city and 33 MPG highway. The all-wheel drive models also get impressive fuel economy for a capable SUV, coming in at 26 MPG city and 30 MPG highway. If you want an efficient and affordable ride that can handle anything you throw at it, the 2021 Chevy Trailblazer is worth checking out.
Interior space is important for any SUV, and the Trailblazer delivers. Despite its compact size, the Trailblazer offers you a commendable 54.4 cu ft of space, although it's worth noting this is the maximum amount of space and will only be accessible when the rear row of seats is folded down. If this rear-row is not folded, you'll still have 25.3 cu ft. of space for any belongings. Headspace is superb regardless of which seat you're sitting in, as the front row will get 40.9 inches, and the rear row has 38.4 inches. The same can be said for legroom, as the Trailblazer sports 40.9 inches in the front row and 39.4 inches in the back. While many small SUVs are only really good for two passengers, the Trailblazer can comfortably fit adults in its back seat.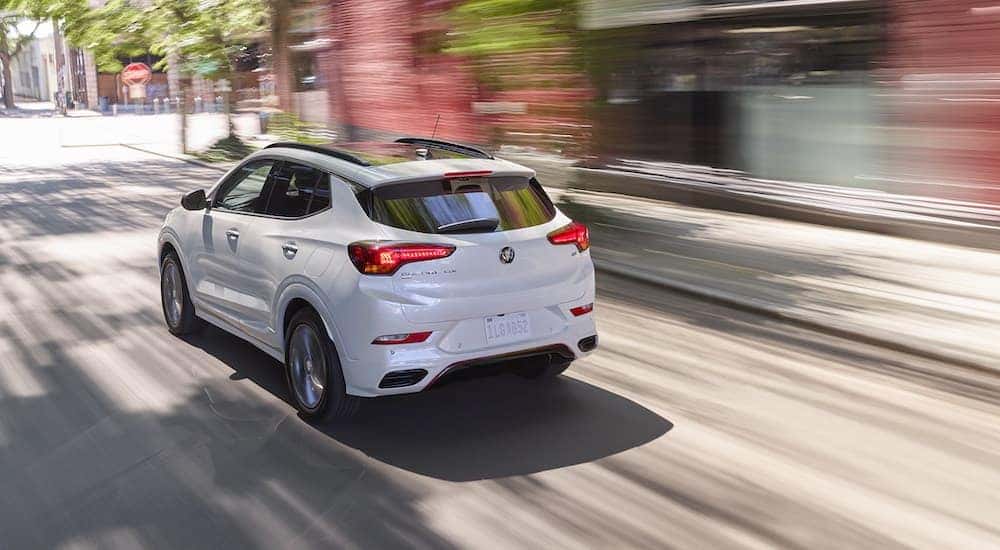 2021 Buick Encore GX
Starting at an MSRP of $24,200, the 2021 Buick Encore GX is currently the most cost-effective SUV that Buick offers within its lineup of new vehicles. The powertrain configurations are identical to the ones found on the Trailblazer, with the only exception being slightly different EPA-estimated ratings. Models that sport the turbocharged 1.3L three-cylinder will get EPA ratings of 30 MPG city and 32 MPG highway for the front-wheel drive models. Overall, it offers the same capable driving experience as the Trailblazer, in a more luxurious and premium package.
The Buick Encore GX, much like the Trailblazer, has plenty of safety features that come standard. Some of the features that you'll find on both vehicles include Automatic Emergency Braking with Pedestrian Detection, which will bring your vehicle to a halt before hitting another vehicle or a bystander. You'll be given a heads-up in the form of Forward Collision Alert, which also comes with the Encore GX and Trailblazer and will send an alert signal to you before a collision takes place.
While driving on the freeway, it's important to maintain a straight line within your intended lane, but mistakes can happen. Should you be leaving your lane, features such as Lane Departure Warning will kick in and warn you of your vehicle's misalignment on the road. Another valuable safety system is Lane Keep Assist, which allows your vehicle to make small corrections to the steering to ensure you're safely in your lane. A Rearview camera also comes with both vehicles, and this can be swapped out for an HD Surround View camera system for even more viewpoints surrounding your vehicle.
Both vehicles include Teen Driver. By utilizing rules that the parents have set, whether it's volume limits, speed limits, or more, the vehicle will tailor the driving experience to keep teenage drivers safer than ever. Teen Driver is an important feature to acquire if you have a child that will be utilizing your vehicle, and parents can always keep track of their child's driving performance through a report that will be sent to their wireless devices every time their child gets out on the road.
It Is Time to Act
No other dealership in the area can match our selection of high-quality GM vehicles or the experience you'll have shopping with us. We take car buying as seriously as our customers, and it's our goal to make every experience shopping with us one that you'll enjoy and whole-heartedly recommend to others. We consider the freedom of choice with our customers, and it all starts with our selection of vehicles from Chevy and GMC. If you're looking for affordable SUVs from any of these brands, then we'll gladly assist you with either a brand-new model or a used one.
At Crossroads Chevrolet GMC, we also offer additional ways to acquire your vehicle, which you can learn more about at our on-site finance center. Our experts will always take the time to discover the perfect loan or lease terms for you. Need a hand with ditching your old vehicle in the process? Not a problem as our on-site finance center can help you with trade-in values as well. When you're ready to begin shopping for your new vehicle, come visit us at 1701 Highway 72, West Corinth, MS. When you see our selection of modern GM SUVs, cars, and pickup trucks, you will be glad you made the trip from Tupelo.