Can I Trade In My Car if It's Not Paid Off?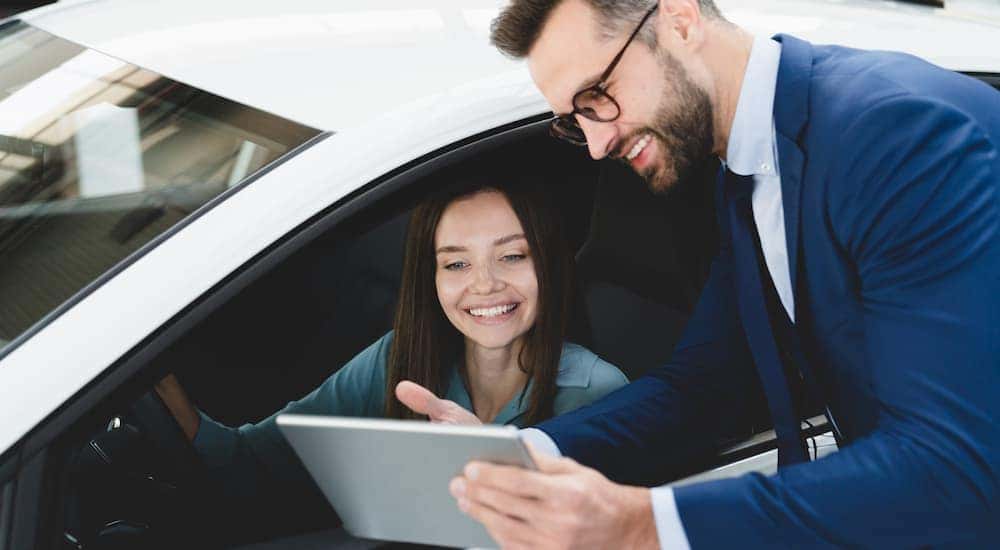 At Crossroads Chevrolet GMC, we hear a lot of the same questions when people are looking to upgrade their vehicles: How do I value my trade? How do I know what I have left to pay off on my loan? Can I trade in my car if I still owe money on a car loan? If you need to trade in your car, you can do so even if you have a car loan that has not been paid off. Dealerships like ours will be more than happy to buy out your existing loan in order to get you behind the wheel of your next vehicle. If you have been looking to determine the trade-in value on your current car, we can tell you exactly how much your car is worth and help you put that money towards paying off your car loan.
Most folks need to finance their cars. Let's face it, it can be hard enough to come up with a down payment on a new vehicle, and paying cash is simply not feasible for most drivers. Sometimes, a car becomes unsuitable for your purposes before you finish paying off the loan. Perhaps you bought a compact sports coupe when you were single, but now you're married and expecting your first child, so you need a bigger car, like a midsize sedan or an SUV.
On the other hand, maybe you are driving in a full-size SUV that isn't very fuel efficient, a remnant from the days when you were driving your kids all around town. Now that they've grown up and gone off to college, you figure it is time to downsize to a smaller, more affordable model with better fuel economy. No matter the reason, at Crossroads Chevrolet GMC, our finance team will work with you to take care of your remaining loan balance so you can trade in your current vehicle and put the money towards a down payment on your next new or used model from us.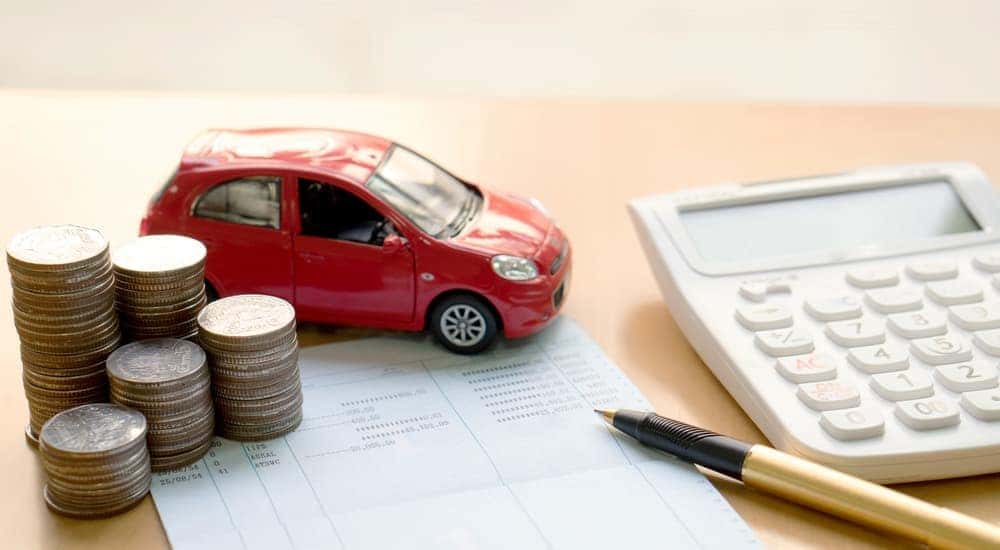 How Does This Work?
When you are getting ready to buy your next car, we can give you the value of your existing vehicle. Just send us the make and model, model year, the trim on the car, plus a few additional details, and we can give you an estimate. When you visit us to buy your new car, our team will then inspect your vehicle and provide you with an exact quote on the car's trade-in value. You can use that to buy any new or used car from us.
When you are trading in a financed vehicle that still has an open balance, you should make sure to have all of the loan paperwork with you when you arrive at our dealership. This will allow our finance team to go over the loan terms, find out if there are any prepayment options, and use this to determine how best to approach trading in your existing vehicle for your new car.
You should also request a payoff letter from your lender, so we can see the total amount of principal and interest needed to release the lien on the vehicle. We will need this to determine the total loan cost, which will be deducted from your equity in the vehicle. In other words, if the trade-in value of your existing vehicle is $12,000, and you still owe $7,000 in principal and interest on the car loan, then you will ultimately receive $5,000, which you can use as a down payment on your next vehicle from us.
The Benefits of Trading in a Financed Car
There are many excellent benefits to trading in your car, especially if you want a newer model or a different type of vehicle. First, when you trade it in at our dealership, we will take care of all the paperwork, so you won't have any headaches. This includes paying off the existing loan and getting a release from the finance company or bank that issued it so that the loan will no longer appear on your credit reports.
In addition, there are other documents that need to be prepared for us to take your existing vehicle as a trade-in, including state registration, insurance transfer, and similar matters. These can be a real hassle for a driver who doesn't deal with selling cars every day of the week. That is why it is best to let our team of experienced professionals handle the paperwork for you.
If you trade in your existing vehicle for a less expensive model, you can also help reduce your monthly payments. Larger vehicles usually cost more, which means they have a higher monthly loan payment. In addition, more expensive models tend to cost more to insure. By trading in an expensive vehicle you no longer need, you can save yourself money each month with a lower car payment.
Finally, our dealership has access to many different loan programs. This allows us to work aggressively on behalf of customers like you who are financing their next purchase. As a result, we can get you the best terms on your next car loan.
What if I Have Negative Equity?
Usually, when you trade in a car with an existing loan, the value of the car is more than the remaining balance due on the loan. This is known as having positive equity. The trade-in value of your car in this situation will be equal to the value of the car minus the remainder of the loan. However, sometimes the car is not worth as much as the money you owe. If this happens, it is called having negative equity. If this is the case with your car, don't panic. We can help you with this situation as well.
Sometimes vehicles just don't hold their value well over time. This could be because the model was discontinued, so there aren't many drivers looking to buy one used. It also could be because you have had issues with the vehicle, such as maintenance problems or involvement in a major accident. Whatever the reason, we can still help you trade in your existing vehicle for a new or used model from our dealership. We can roll whatever remains of the loan after you trade in your car into the new loan for your next car. This will allow you to pay off what you owe while still getting your next vehicle from us.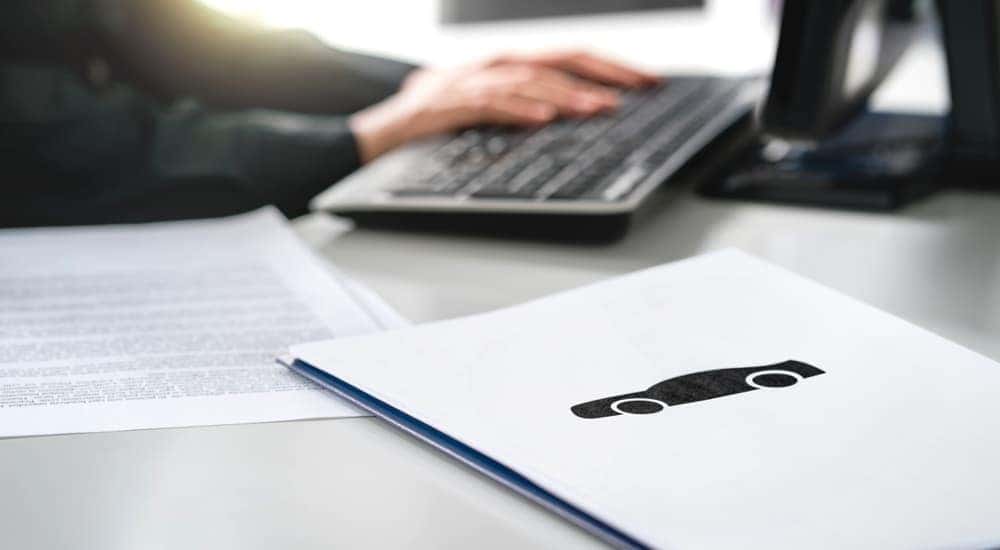 What if I Have a Co-Signer?
Many people need to have a friend, partner, or relative co-sign the loan when they purchase their car. This gives the financing company additional security, knowing that your friend or relative will help you out if you are unable to make your payments. Now that you are looking to sell your existing vehicle, you are probably wondering if you need to bring along your co-signer when you trade in your car.
The answer depends on whether your co-signer is named on your car's title. If the co-signer is on the title, then you will need to have this person sign the papers before completing the deal. If this is not the case, then you can make the trade-in without the involvement of the co-signer. Either way, we are sure this person will be glad to know that you are getting a new car loan for your next vehicle and won't need them to co-sign the loan on your behalf.
Don't Let a Loan Keep You From a New Car
When you need to buy your next car, you shouldn't let the fact that you still owe money on your current vehicle get in the way. Trading in a car that you still owe money on could actually save you money on monthly payments. It can also help you get a loan with better terms. Most of all, it will help you get a vehicle that better serves your current needs and your lifestyle.