Chevy Leads the EV Revolution With a Pair of All-Electric SUV Launches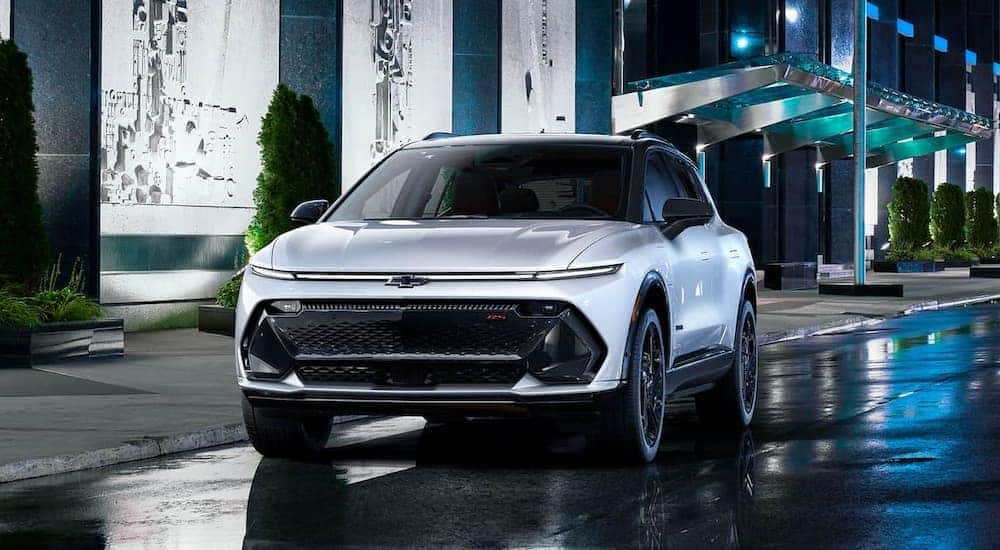 If you've been patiently waiting for an affordable all-electric SUV, your wait is over. Introducing the all-new, completely electric 2024 Chevy Blazer EV and 2024 Chevy Equinox EV. If you're looking for a Chevy dealer in Collierville, TN, to see these new electric SUVs when they arrive, then look no further than Crossroads Chevrolet GMC. Chevy plans to launch both electric SUVs with a low starting price, which the automaker expects will draw even more buyers to the growing EV segment. These two new family-friendly SUVs significantly advance Chevrolet's larger goal of becoming entirely electrified by 2035.
Both vehicles compete in the cluttered compact SUV category against popular nameplates like Honda and Toyota. Featuring Ultium battery technology, the Blazer EV and the Equinox EV take advantage of Chevy's shared platform architecture, which helps drive down costs, resulting in a surprisingly low starting MSRP for buyers. Both EVs offer a competitive driving range and DC Fast-Charging capability for quick recharging.
On the heels of the full-size Silverado EV launch, Chevy hopes to populate the growing EV crossover category with affordable, performance-oriented versions of some of their most popular models. The Equinox EV offers a responsible alternative to gas power without compromising roominess or safety for families. The Blazer EV adds even more performance features and a carved, modern exterior for style seekers. Here's the latest on these two highly anticipated Chevy EVs.
The 2024 Chevy Equinox EV
The 2024 Equinox EV offers the same family-friendly features as its gas-powered sibling but with a zero-emissions powertrain designed for extended range and easy, fast charging. The upcoming Equinox represents a significant shift for the largest American automaker. In the future, more EVs will join the Equinox EV, replacing gas and diesel-powered models.
Specific Equinox EV trims come with a massive 17.7-inch infotainment touchscreen, which connects seamlessly to Android and Apple smartphones and interacts with app-based driver data, like the vehicle's remaining range. The hands-free Super Cruise system is also available on the Equinox EV, allowing drivers to set the adaptive cruise control and travel hands-free on connected roads and highways. Even the liftgate goes high-tech, with a proximity sensor that triggers an automatic open feature.
Chevy calls the Equinox EV "an EV for everyone," citing its affordable $30,000 starting MSRP as a critical factor in the crossover's mass appeal.[a] Standard Chevy Safety Assist infuses the Equinox EV with class-leading driver-assist safety technology. Chevy also offers a Head-Up display on upper-level trims and a handy Rear Camera Mirror that displays a live view of the area behind the vehicle on the rearview mirror.
Buyers can choose between a 210-hp front-wheel drive system or a 290-hp eAWD system. The former produces 242 lb-ft of torque, and the latter achieves a substantial 346 lb-ft of torque. The Equinox EV comes in five trims––the 1LT, 2LT, 3LT, 2RS, and 3RS––with an estimated total driving range of 300 miles on a full charge. Other luxury features include Bose audio, heated and ventilated seats, and oversized 21-inch aluminum wheels.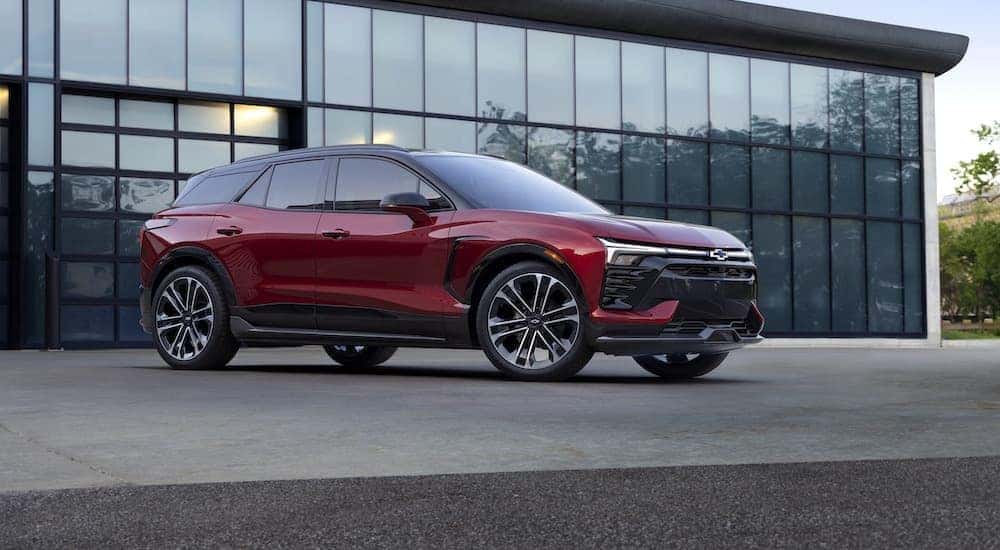 The 2024 Chevy Blazer EV
Chevy positions the 2024 Chevy Blazer EV for sheer performance, offering an SS trim with next-level horsepower and torque ratings and up to 320 miles of driving range. Four trims make up the 2024 Blazer EV lineup––the 1LT, 2LT, RS, and SS––for a wide variety of buyers looking to transition to EV ownership. Like the Equinox EV, the Blazer EV runs on Chevy's Ultium battery platform and, according to Chevy, takes its design cues from the Camaro and the Corvette.
The Blazer EV SS delivers an astounding 557 horsepower and a max torque rating of 648 lb-ft. Chevy estimates a zero-to-sixty time of fewer than four seconds, aligning the Blazer EV SS with some of the fastest available sports cars today. The all-wheel drive Blazer EV SS achieves a driving range of 290 miles and features Brembo brakes, 22-inch wheels, and a Head-Up display. Hands-free Super Cruise is also included, along with upscale cabin finishes.
Standard DC fast-charging capability on the RS and SS assures 78 miles of range per 10 minutes of charge, helping drivers justify the switch to an all-electric powertrain. Chevy includes standard LED headlights, taillights, and fog lights, with upper-level trims offering animated walk-up/walk-away lighting as a unique premium touch. A 17.7-inch infotainment touchscreen is standard on all Blazer EV trims.
The Blazer EV features a flat floor that increases passenger space and enlarges the cargo area. The RS and SS have ambient cabin lighting and heated and ventilated front seats. Buyers choosing the base 1LT trim enjoy a 247-mile driving range and standard front-wheel drive. 2LT trims achieve 293 miles of range and offer buyers the choice of front or all-wheel drive. RS buyers can select from front-wheel drive, all-wheel drive, or rear-wheel drive. The SS comes standard with all-wheel drive.
Chevy's Ultium Battery Technology
Chevy continues investing in its Ultium battery technology, including sourcing raw materials at lower costs to drive down vehicle prices and put EVs within reach of every driver. Chevy's parent company, GM, has invested over $27 billion in EV-related spending to further its goal of an all-electric lineup by 2035. GM reports that Ultium batteries are now 40 percent cheaper than just a few years ago.
Nearing its second generation, the newest Ultium cells can hold more energy and are manufactured more efficiently than earlier versions. This translates to lower starting prices across the lineup, including entry models. GM's goal is EV affordability for all buyers. The Ultium battery cell platform is scalable, which means it can stack to provide increased performance like the output expected on the 2024 Blazer EV SS.
Additionally, future generations will charge faster and deliver longer driving ranges. Because the battery cells are utilized across the entire Chevy EV lineup, manufacturing economies are realized with every new model launch. Buyers can expect EVs to eventually cost about the same, or less, than gas-powered alternatives, a transition that will make switching even easier to justify. Ultium batteries power every Chevy vehicle, including the Equinox EV and the Blazer EV.
Though they share battery technology, every Chevy EV has its own specific design. The standard battery, which weighs around three pounds and holds .37 kWh of power, can be stacked vertically or set side-by-side in a horizontal pattern—the latter accounts for the Blazer EV's flat floor and expansive cargo area. Complex software constantly monitors battery health via a cloud-based operating system, ensuring optimal health and performance for owners.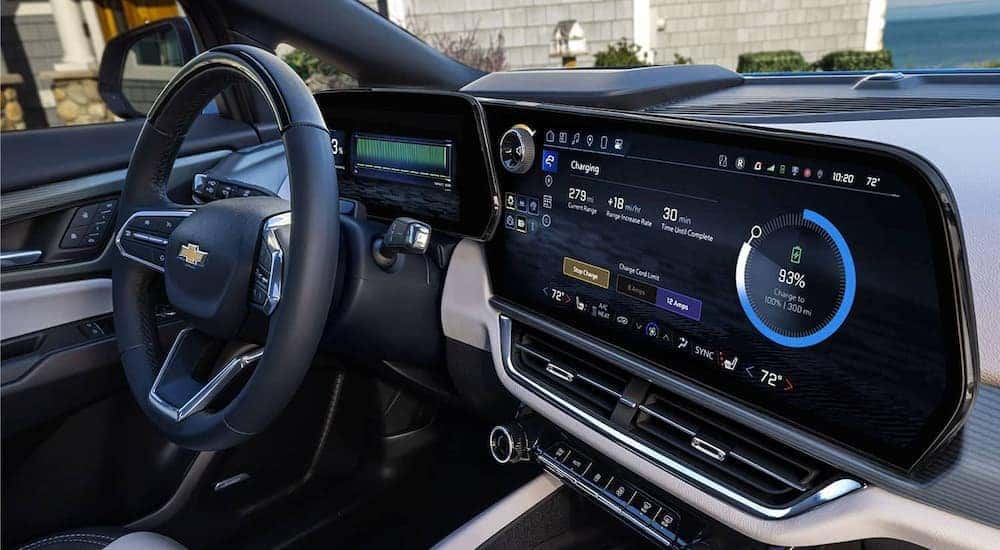 Affordable EVs for Every Driver
Chevy's goal of building an affordable EV for every driver gets closer with the 2024 Chevy Equinox EV and Blazer EV. Both crossovers offer different features and styles, but together represent the future of the Bowtie brand. Joining the Silverado EV and the Bolt and Bolt EUV, these two vehicles exemplify Chevy's aggressive electrification goals and give hesitant buyers a little more confidence that it's time to make the switch.
The Equinox EV and the Blazer EV offer futuristic tech to accompany their equally modern powertrains. Buyers can expect to easily monitor driving range and battery health via app-based technology that links to the vehicles' onboard infotainment system. Drivers hesitant to pull the trigger will be reassured by Chevy's 8-year/100,000-mile battery and electric component warranty, which betters any coverage found on a gas or diesel powertrain.
With these two new electrified crossovers, it's clear that Chevy wants new buyers to move to an EV. On-the-fence buyers don't have to worry about driving range or fast-charging capability, nor will they have anxiety about newer technology components failing. Perhaps it's time for you to consider the next generation of automotive technology. The Chevy lineup is a great place to start.
---
[a] MSRP may change without notice. See dealer for complete details.