2021 Chevy Colorado vs Ford Ranger – Which Truck Wins The Midsize Medal?
Truck enthusiasts everywhere enjoy comparing each new year's model and determining which brand's truck does better in which areas. But when it comes to midsize trucks, these comparisons are fairly one-sided given just how good the latest Chevy Colorado is. Perhaps its only real competition comes from the Ford Ranger, but despite the long rivalry between Ford trucks and Chevy trucks, the 2021 Chevy Colorado will provide you with far more options and capabilities than the 2021 Ford Ranger.
When comparing vehicles, it is important that you pay close attention to the specs and features that are most important to you. There is no such thing as the perfect vehicle, and every car or truck on the road is specifically designed for a particular target market. While you might not be the intended target market for one truck, another truck could be exactly what you're looking for. But when comparing the 2021 Chevy Colorado vs 2021 Ford Ranger, you will find that the Chevy model excels in so many areas that there are few niches where the Ranger is the better choice.
Horsepower
If you're looking for power, the 2021 Colorado has got the 2021 Ranger beat. The V6 engine in the 2021 Chevy Colorado gets an impressive 308 hp, whereas the turbocharged four-cylinder in the 2021 Ford Ranger only gets 270 hp. What can you do with all this extra horsepower? Whatever you want! From highway driving to high-speed off-roading, the extra horsepower of the Colorado will spice up your ride.
Typically people get excited about horsepower because it means better acceleration, which equates to better performance. After all, nobody wants to be that guy on the interstate onramp who can't get up to speed in an acceptable amount of time. If you're already on the interstate and you need to get around a slow vehicle before your passing lane ends, horsepower is what gives your truck the muscle to pass somebody and sneak back into your own lane before anybody even notices you left.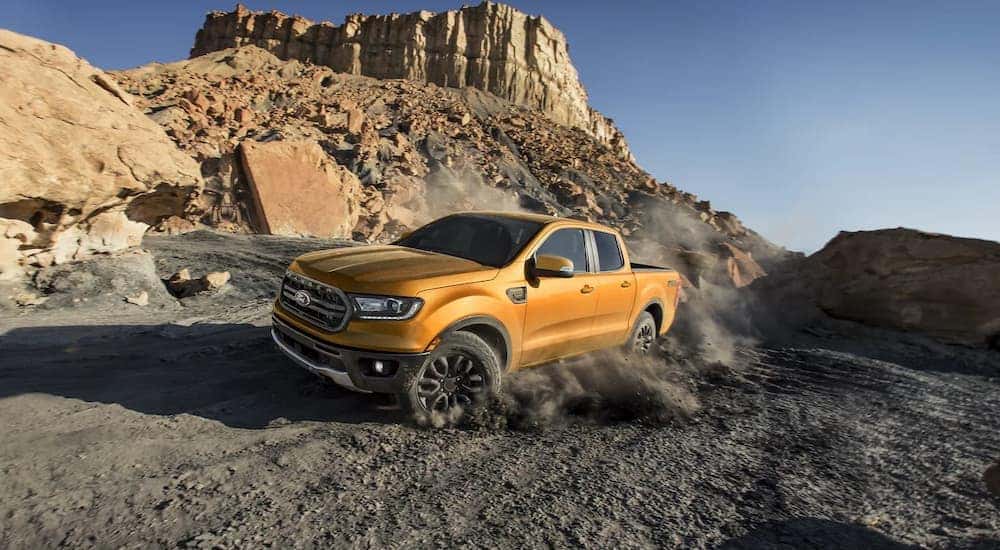 Fuel Tank Capacity
Another perk about the 2021 Colorado is the fuel tank capacity. The Colorado has a 21-gallon fuel tank, while the Ranger only has an 18-gallon fuel tank. Why do these three measly gallons matter to you? Quite a bit – especially considering the Colorado also offers a more efficient engine than the Ranger.
If your daily commute is short, and you rarely venture far from home, a 3-gallon capacity difference will probably not make a huge difference in your life. However, if you are on a long road trip (especially if you are towing a trailer), those extra stops for gasoline start to add up. This is especially true if you are considering a Colorado with the optional diesel engine (an option the Ranger doesn't have). With its 30 MPG on the highway, those extra three gallons are almost another hundred miles of range.
Bed Length
The 2021 Chevy Colorado has two bed options. The extended cab option comes with a 74-inch bed, and the crew cab option comes with either a 62-inch bed or a 74-inch bed. The Ford comes up short in this comparison with its choice between either a 61-inch bed or a 73-inch bed. But more importantly, the crew cab Ranger can only be fitted with the 61-inch bed, so if you need five seats and plenty of cargo space, you'd better go with Chevy.
Those extra 12 inches of cargo space will give the crew cab Colorado vastly more capability than the crew cab Ranger. They can easily mean the difference between safely securing your load with the tailgate alone and having to tie it down with straps as it hangs out the back of the bed. An extra 12 inches will also allow you to transport far more loose cargo or boxes with a total of 50 cubic feet of cargo space instead of just 43 cubic feet.
Will these extra inches be a big deal all the time? Maybe, maybe not. That really depends on whether or not you plan on buying 6-foot boards on a regular basis or not, or if you plan on only carrying a handful of smaller items. But just like having a slightly bigger fuel tank capacity, when you really need those extra inches, you'll be grateful they're there.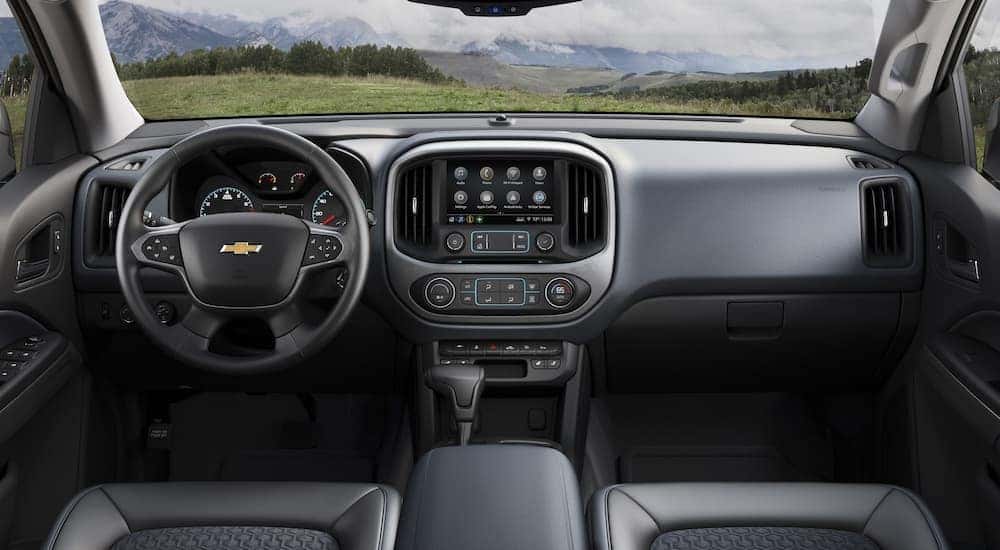 Teen Driver Feature
Perhaps one of the most valuable features of the 2021 Chevy Colorado is Teen Driver. If you are the parent of a young or up-and-coming driver, this feature will be especially interesting to you. Even if you don't think you're going to have a teen driver anytime soon, it can be difficult to predict how long you will own your truck or what friends and family members will need to borrow your truck sometime in the future. With safety features like this, it's always best to be prepared.
The 2021 Chevy Colorado offers a Teen Driver feature that will allow you as the parent to put limits on your teen's driving experience. With the Teen Driver feature, you can limit how fast your teen can go, thus preventing unnecessary speeding or the reckless driving habits common in teens. You can also put a limit on audio volume, thus preventing your teen from blasting his or her music too loudly, which results in dangerous and distracted driving.
The Teen Driver feature also puts up an alert that reminds your teen to buckle up before driving away, even when you're not there to do the reminding. Teens have been proven to forget or choose not to buckle up more often than not, and this alert helps make your teen safer while driving. Additionally, the 2021 Colorado will rate your teen's driving habits and send a report to you as the parent so you can monitor your teen's safe or unsafe choices even when you're not there. All of these features combine to help keep teens safer and parents calmer.
Choose Your Perfect Truck
When comparing the 2021 Chevy Colorado vs 2021 Ford Ranger, you will find that both are very good vehicles. Each truck comes highly rated and with a large range of impressive specs, features, and capabilities. However, when it comes to the features that really matter to you, there is going to be a clear winner. Only you can determine which features are most important for your personal circumstances.
If you like the idea of having extra fuel on hand in case of an emergency, then the Colorado is a good option for you. If you need a crew cab and still want to haul large items securely, then the Colorado is the truck for you. And if you just want the more powerful truck, then the Colorado is the truck for you. These capabilities and features are not going to be equally attractive for everybody, but if any of them fit your needs, then it is time to make your way to Crossroads Chevy GMC to check out the 2021 Chevy Colorado. When you visit our West Corinth dealership, you will quickly discover exactly how good the latest Colorado is.