Play Hard and Work Hard With the All-New 2023 Chevy Colorado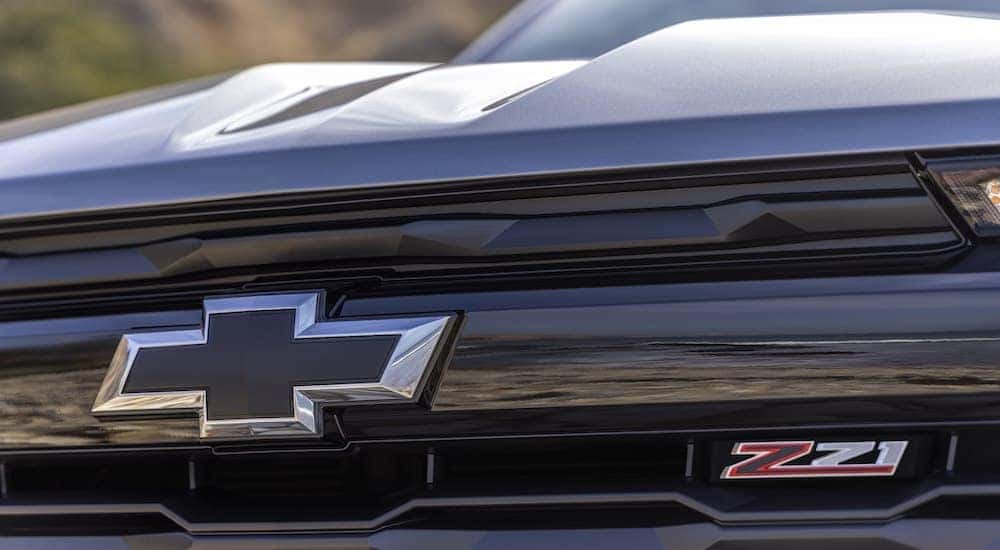 Midsize pickup trucks are cool, but traditionally, they are a "step down" from full-size pickup trucks. Not that a step down is bad, it just means that you're not going for the top of the top. The point of a midsize pickup has always been to offer something smaller, with a little less power, but still capable. That's changing, though. The all-new 2023 Chevy Colorado is completely redefining the idea of the midsize pickup by offering more power, more capability, and more functionality. This is not a "step down" truck, this is, by all means, a "step up" truck, and in some ways, it's even a step up from many other leading full-size pickup trucks.
The Colorado has always been known for its recreational excellence, especially in the area of off-roading. Whether you're using your Colorado for work purposes, DIY projects, or pure recreation, the new 2023 Colorado allows you to work harder and play harder. As your Chevy dealer in Corinth, MS, we've got the 2023 Colorado ready and waiting for you, but before you rush on over to get your own, let's see why it is that the 2023 Colorado is a step-up truck.
You Can Play Hard
Trucks are cool vehicles, and many people like trucks because of the "truck look." The architecture in itself is appealing, but the initial thrill of the "truck look" wears off pretty quickly if the truck can't perform well. What good is a truck if it can't function like a truck? Usually, midsize trucks have performance specs and capabilities that are functional and good but rarely great. Not so with the 2023 Colorado.
The 2023 Colorado offers five different trim options: LT and WT, ZR2 and Z71 (both of which are off-roading favorites), and for the first time ever, the Trail Boss trim. As you may have gleaned, the Colorado really likes to get on the dusty trails. After all, it is the perfect truck for off-roading; it's got a strong architecture but a compact build, making it more flexible and easy to maneuver. But which off-road trim should you get?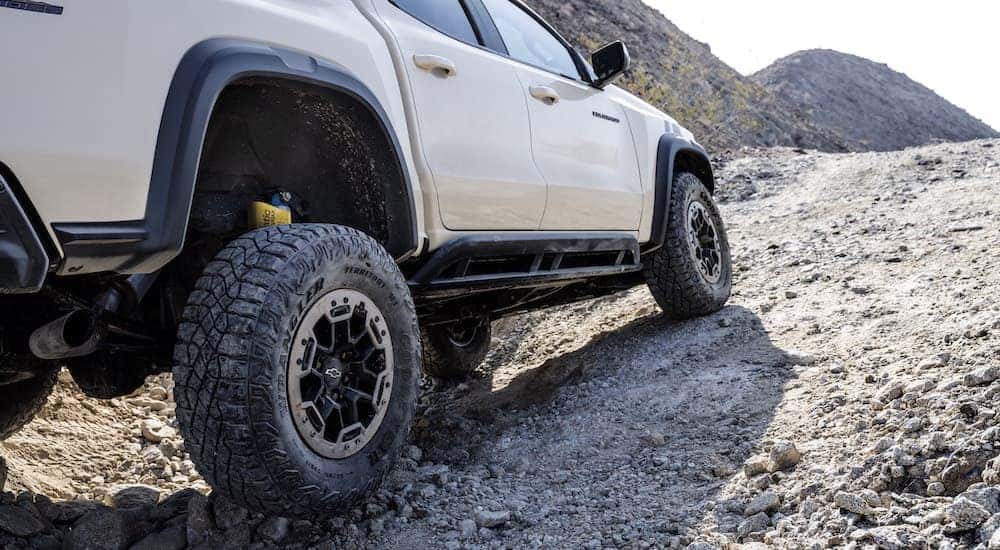 If You're Going Off-Roading, You'll Want the ZR2
The ZR2 really transforms the vehicle, making it, in some ways, closer to an edition than a trim. With its 2.7-liter Turbo High-Output engine, it reaches the highest specs of all the Colorado trims by a long shot at 310 horsepower and 430 pounds-feet of torque. 430 pound-feet of torque is a number that you don't find in midsize trucks––midsize trucks other than the 2023 Colorado, that is. That kind of power significantly increases the possibilities of your off-roading experience, especially when it comes to those terrains which require a little extra boost.
Good performance specs are no replacement for intricate, tactile performance capability features. Of course, the Colorado ZR2 also provides this with five selectable drive modes, which make sure that your Colorado is performing at an optimal level in any and all conditions. The other off-roading trims, the Z71 and the Trail Boss, offer driver-selectable modes, but only four. That's still fantastic, by all means, but having the fifth certainly helps. What is the fifth? Well, Trail Boss and Z71 offer Off-Road, Terrain, Tow/Haul, and Normal, just like the ZR2, but the ZR2 also offers Baja. If the name itself wasn't enough to convince you, knowing that its specialty is stability and traction on sandy terrain will. Just imagine hitting the open desert sand and tumbling around in that lovely midsize truck.
In addition to having five drive modes, the ZR2 also includes an off-road performance display, so you can have a holistic understanding of how your vehicle responds to the given terrain. In addition to these drive-specific features, the ZR2 also offers lifted suspension and a wider chassis than the LT or WT trims and includes segment-exclusive Multimatic DSSV dampers to keep your ride smooth as you clear those off-road obstacles.
As we said before, the Trail Boss is the new trim for this model year. While it's not quite on the level of the ZR2, the big benefit of the Trail Boss is that it provides a super off-road savvy trim that is not quite as expensive as the ZR2. The ZR2 is about as amazing as off-roading trims come, so just because another trim isn't at that level does not mean that it is not still at a very high level of off-roading, and that's the case with the Trail Boss trim.
The Colorado offers one more tool, a new addition for 2023, that will change your off-roading game: underbody cameras. The Colorado is leading its class in camera technology, with ten available camera views, but the underbody camera is the most amazing part of it all. When you're traversing the trails, you'll now be able to keep your eyes out for rocks and obstacles.
You'll certainly be playing harder with these exciting off-roading trims. But, the Colorado is not all play and no work; it can certainly haul a load of its own.
Not Afraid to Work Hard
We previously mentioned the WT trim. This is not just an acronym with no meaning. WT stands for Work Truck, and what an appropriate name it is.
The WT model comes standard with a 2.7-liter Turbo engine but offers an available 2.7-liter Turbo Plus engine. If you're looking to tow a load, you're going to want this upgrade, as it gives the Colorado WT a towing capacity of up to 7,700 pounds. This, combined with 310 horsepower and 390 pound-feet of torque, means you'll be working harder than most other midsize trucks. Most other midsize trucks are designed only for recreational use or light DIY projects. The Colorado may not be a heavy-duty truck in its official classification, but it certainly is a heavy-duty truck in the midsize sector.
One of the Colorado's most innovative features that is sure to make any job or project easier is the new integrated tailgate storage. That's right, tailgate storage, as in storage built into the tailgate itself, not just the pickup bed. It's a narrow compartment, so it's not meant for big loads but rather for tools and smaller items that could take up otherwise valuable space in the pickup bed or the truck's interior. This compartment is watertight but also has a drain. Why? The folks at Chevy know how much you like a good party and thought you might want to use it as a cooler. So, tailgate storage is not only for work tools; it can make any tailgate or camping trip a little more fun with a built-in cooler. You can work hard in your Colorado, but when work time is over, you can play hard. It's the best of both worlds.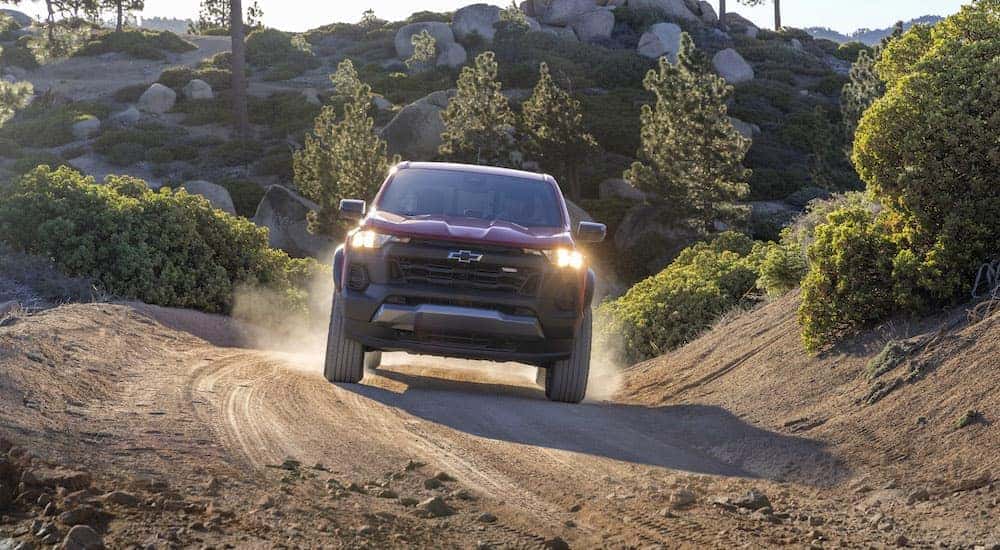 All Aspects of Your Life Combined Into One Truck
Don't do anything halfway. The 2023 Colorado puts you in a good position to commit to whatever you're doing, whether it's working or playing. Sound engineering provides the foundation for strong workhorse capability and robust recreational capability, especially off-roading. In addition to its engineering, it has brilliant driving features allowing for nimble and terrain-specific modifications. The brilliant thing about the 2023 Colorado is its flexibility; with its engine options, trim selections, and customizable features, you can drive as you want to. So, whether you want to play hard, work hard, or a mix of both, the Colorado has you covered. If you want proof, come on in for a test drive!