Putting Together the Silverado 1500 That Meets Your Needs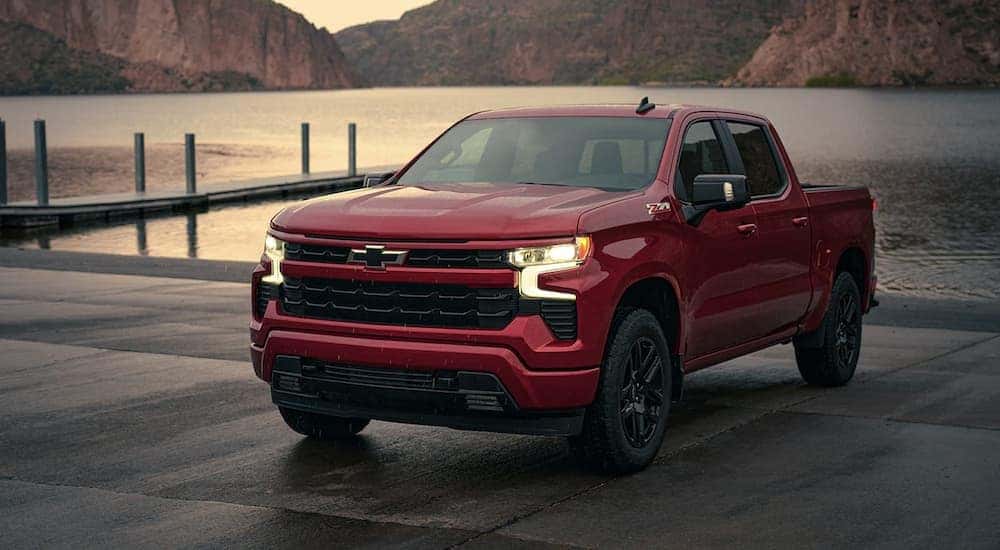 The Chevy Silverado has been one of the most popular trucks in the country since it was introduced more than 20 years ago. These days, you have a ton of options to choose from when looking at a Chevy Silverado for sale, which can make choosing the right combination a bit intimidating at first glance. Fortunately, getting the perfect selection of features and options isn't as difficult as it might seem, especially with the helpful team at Crossroads Chevrolet GMC by your side to take you through everything. While we're always happy to work with you and help you find what you need, we also know that a lot of people like figuring things out before they ever come to us. Today, we're going to take you through some of the major decisions you need to make in order to put together the 2023 Silverado 1500 that meets your needs.
What's Your Truck For?
One of the first questions we like to ask customers who come to us looking for a truck is what they plan to use it for. It's remarkable how easy it is to overlook this question, yet it's absolutely essential for ensuring you get exactly what you need in your Silverado 1500. If you're looking for a truck for general use but don't have any specific requirements in mind, then you have a lot of options available. But it's still important to consider things like how many passengers you'll typically have riding with you, what kind of towing you want to be able to do, and how important comfort is to you.
On the other hand, if you have some specific needs in mind, then it's essential that you identify them and know what you'll require. For example, if you have a boat that you want to be able to tow with you to enjoy a day out on the Tennessee River, then you need to figure out how much weight your boat and trailer comes to and get a Silverado 1500 that can handle it. Similarly, if you have a family of four and you want to have everyone along with you, then you'll need to choose the right cab size for that.
Figuring out all of these requirements ahead of time will make every other part of finding the right truck much easier as you go. This is why we sometimes tell shoppers to choose the trailer or camper they want before they buy a truck, so they know the level of capability they need from a pickup. At the same time, you can consider things like the sort of comfort features you like or how important it is to you to have a great sound system that you can enjoy. All of this might seem minor, but you'd be surprised how quickly the small things can add up.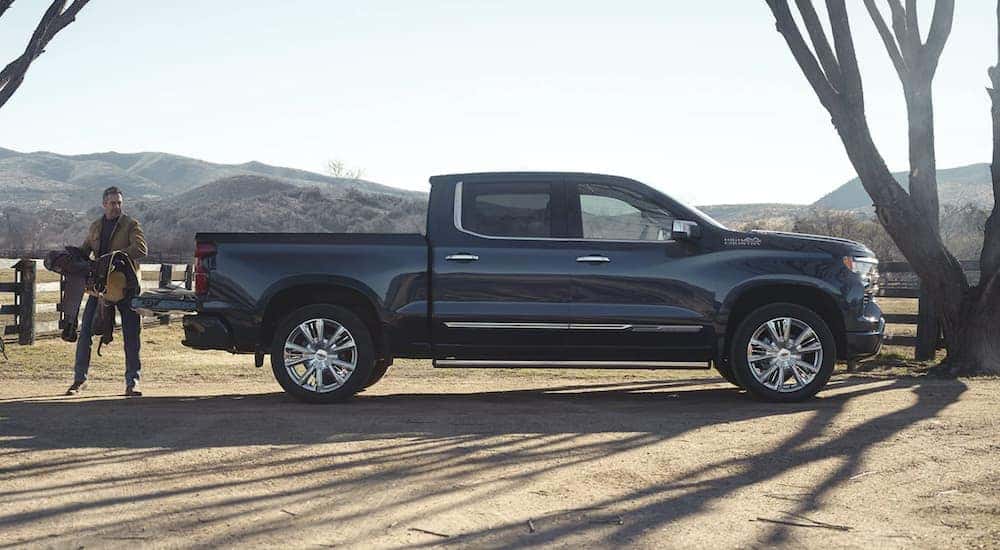 Cab and Bed Configurations
Now that you've got some key requirements figured out, you'll want to take each part of what a truck offers one step at a time and determine just what you need. The 2023 Chevy Silverado 1500 has three different cab sizes and three different bed lengths available, making up a total of five different configurations. Your choice of configuration not only impacts some of the other options you have, like engines and trim levels, but also how much room you have for your passengers and anything you want to be able to toss into the bed of your truck.
There's a Regular Cab, which has two doors and gives you one row of seating. This cab is offered with either a 6.6-foot Standard Bed or an 8.2-foot Long Bed. You can also choose a Double Cab, which gives you two rows of seating for up to six people and is available with the Standard Bed. Finally, you can go with a Crew Cab, which also has two rows of seating, but the rear seats are a lot roomier. This is offered with either the Standard Bed or a 5.8-foot Short Bed.
Choosing the Engine
Once you know what size cab and bed you want in order to meet your needs, it's time to make one of the most important decisions when putting together the right truck: the engine. Chevy offers four engines for you to choose from on the 2023 Silverado 1500, and each of them is a terrific choice. However, they deliver different amounts of power and performance. You can't go wrong with any of them, but there's probably one that would best meet your needs. The available engines include:
2.7L Turbo High-Output – 310 hp and 430 lb-ft of Torque
5.3L EcoTec3 V8 – 355 hp and 383 lb-ft of Torque
6.2L EcoTec3 V8 – 420 hp and 460 lb-ft of Torque
3.0L Duramax Turbo-Diesel – 305 hp and 495 lb-ft of Torque
Your engine choice affects your truck's overall performance and the kind of towing capacity it offers. All four of these engines deliver a terrific driving experience. In fact, the 2023 Silverado has one of the most powerful and impressive starting engines in the industry, so you'll get a great ride with any of them. This standard engine provides up to 9,500 lbs of maximum towing capacity. By comparison, the 6.2L V8 engine can haul up to 13,300 lbs of weight behind it, so your choices make a big difference.
Selecting the Right Trim
The reason we've placed selecting the trim level this far down when putting together the right truck is that it's ultimately going to be a bit limited by some of your other decisions. There's no reason to decide that you want the Custom Trail Boss trim if you don't want four-wheel drive because it's only offered with that drive type. Similarly, some engines are also restricted by trim level, so it makes sense to first decide on the kind of power and capability you need in your truck and then choose a trim level that provides it.
You have nine different trim levels to choose from, so figuring out what you want from your truck can help make deciding on the right trim much easier. For example, if you know you want a pickup that can take you off-road and explore some new trails, then you'll want to focus on one of the Trail Boss trims or the incredible ZR2, all of which have skid plates and an off-road suspension. On the other hand, if you're more interested in getting the latest tech features and interior luxury options, then the High Country trim, with its 13.4-inch infotainment display, 12.3-inch Driver Information Center display, and premium leather seating, is a better way to go.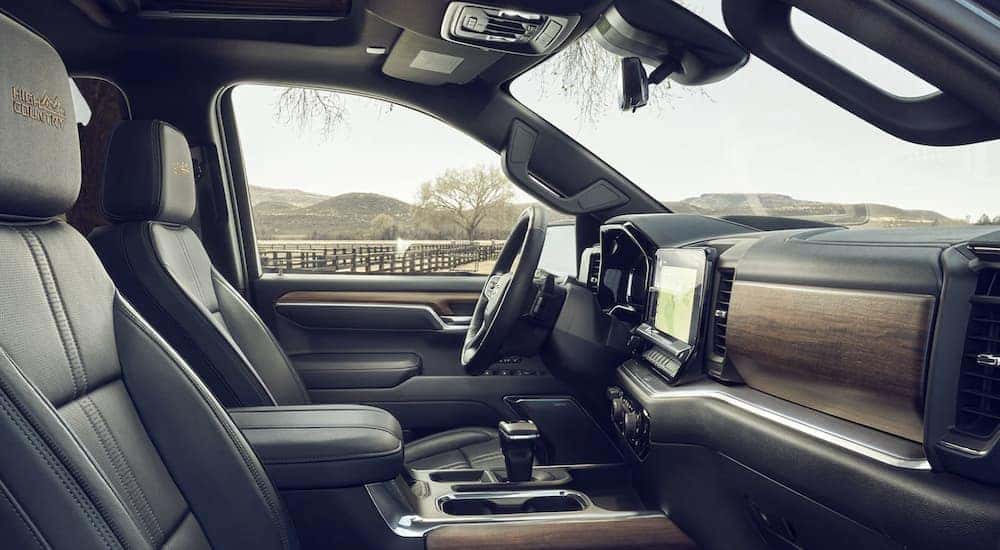 Final Considerations
Once you've figured out everything else, you only have a few more things to consider: mostly some final packages and available options to choose from. These will depend on the other decisions you've made, like the engine you pick and the trim level you want, so there's not much reason to focus on them too much until you've decided on the major details. Putting these final touches on your truck is the perfect way to customize it to your exact requirements and ensure you drive away in the right pickup with everything you've been looking for. Of course, all of this becomes a lot easier when you're working with a great dealership that puts your needs first, which is exactly what you'll find when you visit us at Crossroads Chevrolet GMC. Give us a call or stop by today, and we'll help you put together the Silverado 1500 you've been dreaming of.