The 2021 Chevy Silverado is Better Than Ever Before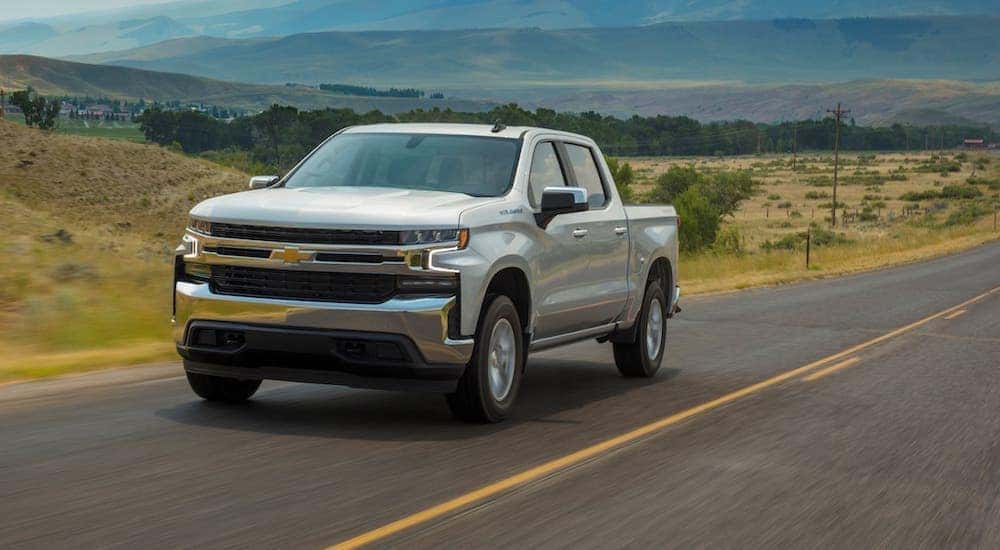 There are plenty of reasons to consider the 2021 Chevy Silverado 1500 for your next truck. After all, it is an impressive pickup with modern looks, a powerful drivetrain, and superior ride quality. Of course, this can also be said for the 2020 Chevy Silverado 1500. Since this is the case, you might wonder if there are significant differences between the 2020 and 2021 models. There is no need to do a search for "Chevy dealer near me" to compare the two trucks in person – the team here at Crossroads Chevrolet GMC is here with all the answers you need.
We're happy to inform you that the 2021 Silverado has several valuable upgrades, including a brand-new Multi-Flex tailgate with six unique positions to make your workday easier. If you are planning on towing, then the 2021 model also includes a variety of brand-new trailering technologies designed to keep you and your cargo safe on the road. While the 2020 Silverado is still a solid choice, the 2021 Silverado is truly a step forward for this iconic truck.
The 2020 Chevy Silverado 1500
It's no secret – each year, Chevy manages to up its game with the Chevy Silverado 1500. There are several reasons why the Chevy Silverado ranks high in the full-size pickup truck class – it features great handling and several high-quality and powerful engine choices. It's difficult to top the available 6.2-liter V8 with 420 hp and 460 lb-ft of torque, a choice that is both impressively quick and pretty decent in fuel efficiency. And don't forget the tremendous towing capacity that the Silverado boasts. But there are other reasons why the 2020 Silverado is a standout, and it has nothing to do with engine size and horsepower.
Regardless of the trim level you choose, the Chevy Silverado will have a unique look that conveys its readiness to conquer any challenge. The optional black trim and black wheels are a popular choice and will capture the attention you desire. As for the overall look of the 2020 Chevy Silverado 1500, it gets high marks. Whichever configuration and trim you choose, you will be getting a truck that looks as good as it drives.
If storage is a concern, Chevy made sure the 2020 Silverado has plenty of it. From the dual glove compartments to the bins hidden behind the rear seat, just start looking around, and you will see storage everywhere. The rear bed is also impressively big, offering best in class space for all your hauling needs. The bottom line is that you really can't go wrong should you choose the 2020 Chevy Silverado as your next pickup truck.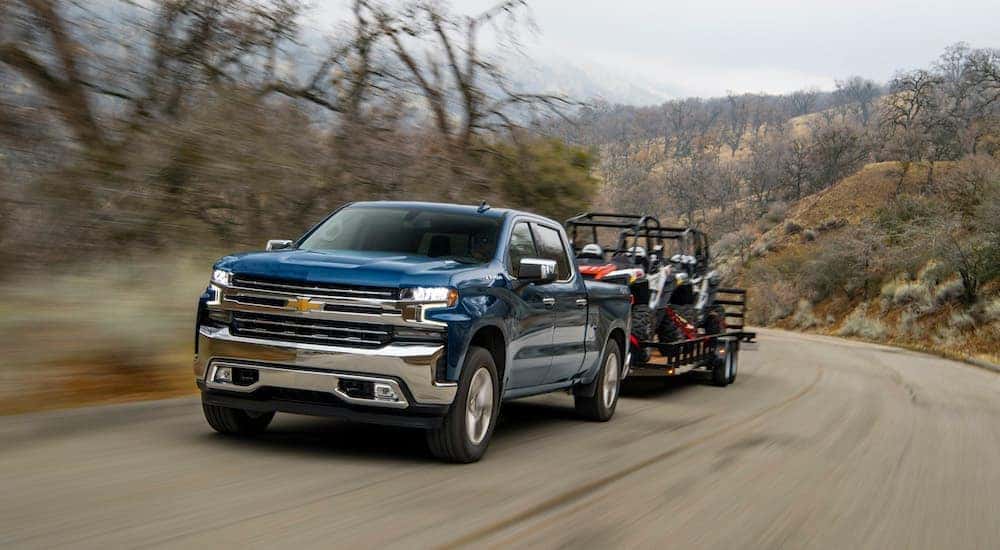 The 2021 Chevy Silverado 1500
From a cabin design that is unique and impressive to the powerful lineup of engine choices, the 2021 Chevy Silverado has a lot going for it. When it comes to Chevy trucks and their performance, you know the drill, all offer superior ride quality. That's never a surprise, but there are other aspects of the 2021 Silverado that will impress most Chevy skeptics. For example, the available Active Safety Features make the Silverado a wise choice if you are planning holiday trips with the family.
Everybody wants something different in their pickup truck, depending on how they plan on using it. Whether you will be using your Silverado for work, play, or day to day applications, there are features sure to fit every need. With eight trim levels, three different cab sizes, and seven powertrains, finding the right combination to fit your needs and lifestyle is all too easy. What might be a little more difficult is deciding which options you want with your Silverado.
Looks aren't everything in a pickup truck, but they are still very important. The 2021 Silverado carries forward the same good looks as the previous model year, which is very appealing to pickup truck owners. And with side panels and fenders that stick out above the wheel arches, the 2021 Chevy Silverado is as sharp looking as it is aggressive.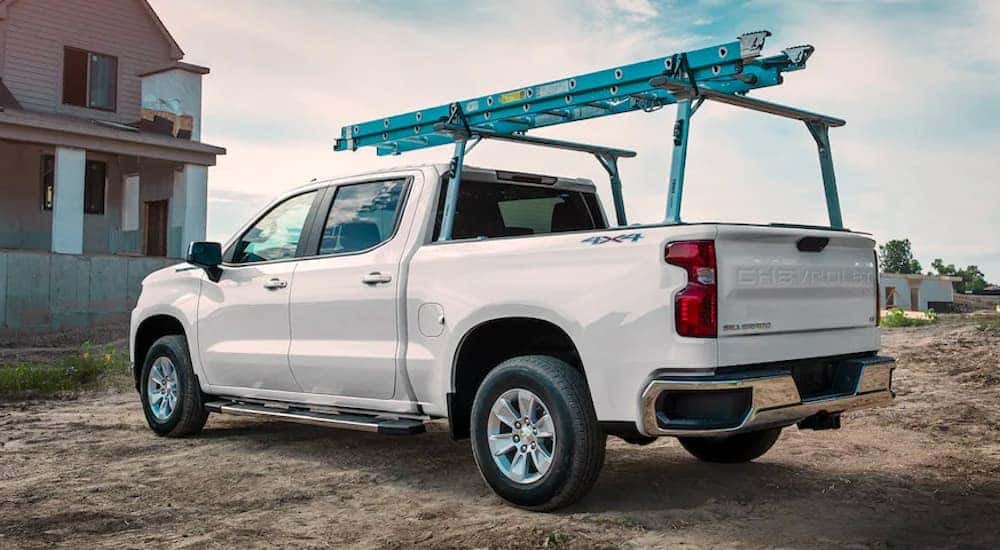 What's New for the 2021 Chevy Silverado 1500
New and more advanced features are added to all makes and models every year. In many cases, however, these changes are limited to higher-end models. But this is not the case with the 2021 Chevy Silverado. You can expect to get the latest tech and safety features with the new model, as should be expected. After all, it is important that the truck you choose to drive has the latest and greatest important features.
What's new for the 2021 Chevy Silverado? Well, let's start with the brand-new Multi-Flex tailgate, which is basically the Swiss Army Knife of tailgates. No kidding. This tailgate can fold six different ways, allowing it to be used as a bed extender, bed step, workstation, and seating for tailgate parties. You can activate the tailgate with your key fob or tailgate-mounted buttons. And don't worry that all this complexity has weakened the tailgate – it is fully capable of supporting up to 375 lbs.
New towing features are available on the 2021 Chevy Silverado as well, making towing a lot easier than before. A trailer length indicator uses a side-mounted camera angle to show how long your trailer is, taking the guesswork out of changing lanes on the highway. It is safer to change lanes when you know you have the proper clearance. The 3.0-liter diesel engine and the 2.7-liter turbocharged engine also offer improved towing capacities over the last model year. With the 2021 Chevy Silverado, you can now tow a bigger boat, if that is your style.
On the tech side, the base model Silverado includes a 7-inch touchscreen infotainment system while other trim levels feature the 8-inch unit. All trims include WiFi hotspot connectivity, Bluetooth, and Apple CarPlay, and Andriod Auto. The 2021 Silverado also features more USB ports than ever, ensuring the entire family can plug in and stay charged.
There are also several changes made to standard features and options available with the various trim levels. For example, the Custom and Custom Trail Boss trims offer LED cargo bed lighting, remote start, and EZ Lift power tailgate as standard features. Chevy also offers new option packages, including the Texas Edition Plus, All-Star Edition Plus, and LTZ Premium Texas Edition. There are even additional wheel options for the 2021 Silverado, allowing you to add style and class to your Silverado with 20-inch black alloy wheels or 22-inch alloys. Lastly, there are three new exterior colors from which you can choose. New to the 2021 Chevy Silverado are Cherry Red Tintcoat, Oxford Brown Metallic, and Mosaic Black Metallic.
If you are ready to buy a 2020 or 2021 Chevy Silverado, then Crossroads Chevrolet GMC is ready to welcome you into our family. Whether this is your first time experience at a dealership or you are well-versed in the auto-buying process, you will be more than satisfied with our commitment to the highest standards. We understand that happy customers are the key to a successful business, and we go out of our way to ensure a transparent and pleasant experience. Whether you are interested in owning a Chevy Silverado 1500 or one of our other great options, we can help put you behind the wheel of your dream vehicle. Even if all you need is an oil change, routine maintenance, or professional brake pads, we can have you back on the road in little time. Swing by Crossroads Chevrolet GMC in Corinth and see why we have so many repeat customers.