The 2022 GMC Hummer SUV EV Boldly Defies – and Outperforms – Its Gas-Guzzling Predecessors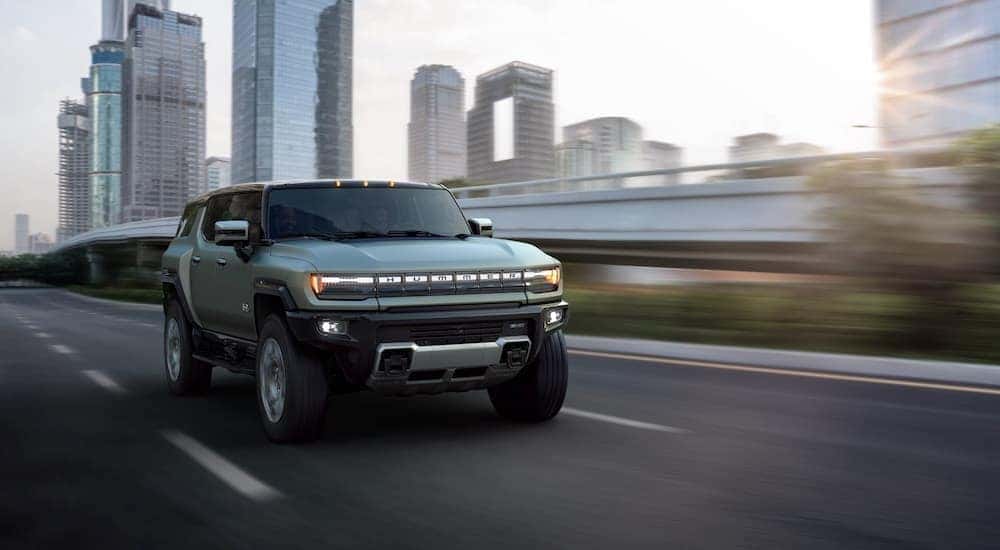 It used to be that the term 'electric car' conjured images of a slow, blandly-styled carpool lane cheat car. Today, nothing could be further from the truth. Major advancements in battery technology have propelled the EV market into previously unheard of categories. Visit Crossroads Chevrolet GMC, your electric car dealership in MS, and you'll be amazed at the new offerings for electric cars. However, the best may be to come with the 2022 GMC Hummer EV SUV on the horizon.
This is not your mother's EV. In fact, it's anything but. The 2022 GMC Hummer EV SUV takes everything we thought we knew about electric vehicles and crushes it under its massive 35-inch tires (with enough clearance for up to 37-inch tires), leaving deep tracks in its wake. Blink and you'll miss it because this Hummer delivers big block V8-like performance, with stats that will have you scratching your head and thinking, are you sure this is an EV?
Burning With Anticipation
The highly-anticipated Hummer EV SUV isn't going to be available until early 2023. Unfortunately, early buyers snatched up the inaugural early-release Hummer EV Edition 1 in just ten minutes, which means those not lucky enough to secure one will have to wait a little longer. But trust us; it's well worth the wait. This new Hummer EV SUV comes with a price tag that's as jaw-dropping as its capability specs, so if you want one, be prepared to fork out over $80,000. We think demand will continue to exceed supply.
The Hummer EV joins a lineup of GMC vehicles that have garnered plenty of attention for their stunning exterior styling and long list of luxury and comfort features. Even the full-size pickup line, the Sierra, enjoys upscale interior appointments and a loyal following of buyers who refuse to drive anything else. What do we love about the all-new GMC Hummer EV SUV? More than we can fit here, that's for sure. From driving range to off-roading prowess, this Hummer is truly something special. If you're hoping to be the first on your block to add one to your fleet, here's a list of all the bragging rights you'll inherit as a proud Hummer EV SUV owner.
Expansive Off-Roading Capability
The value proposition for early electric vehicles centered mostly on environmental stewardship. Prohibitive pricing and limited driving range meant that early buyers suffered for their lowered carbon footprint. Nowadays, compromise is not part of the equation. This is never more apparent than with the 2022 GMC Hummer EV SUV. The Hummer EV SUV delivers up to 830 horsepower and an astounding 11,500 lb-ft of torque, an incredible power range that drivers can tap into for everything from highway acceleration to crawling over rocky terrain. The Hummer EV SUV is clocked at a 0-60 speed of 3.5 seconds, so all that torque range adapts to deliver plenty of speed when called for.
The buzzword that has automotive journalists talking is CrabWalk. What is CrabWalk? Simply put, it's a setting that makes the rear wheels steerable. CrabWalk lets drivers turn the rear wheels up to 10 degrees in either direction, essentially allowing the Hummer EV to travel diagonally. This capability transforms off-roading on tight trails, giving the Hummer EV class-leading maneuverability. Then there's Extract Mode. This is a first-ever feature that lets drivers dial in extra height – up to six inches – to climb out of challenging terrain or ford a raging river. Extract Mode works with the Adaptive Air Ride Suspension, automatically lifting the vehicle and opening up a world of trail-riding possibility.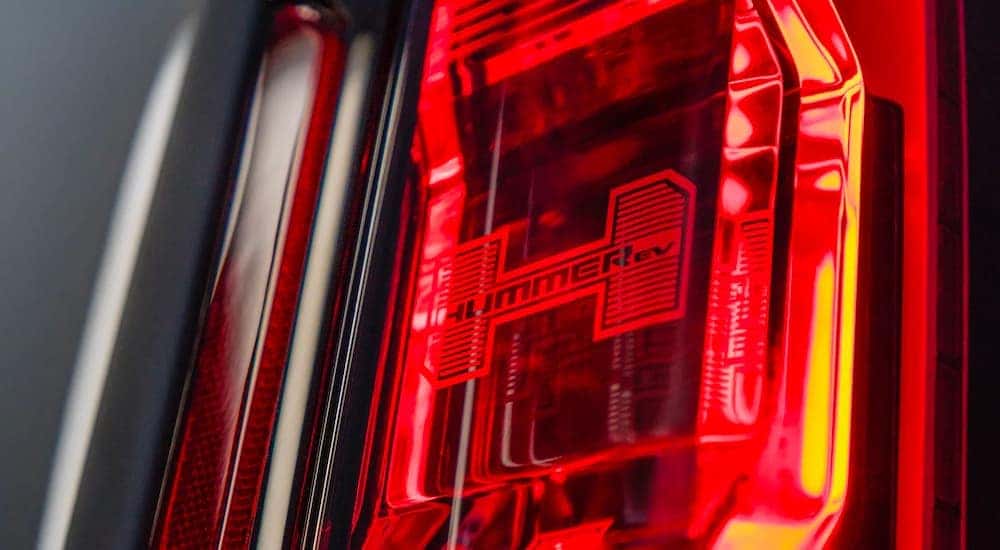 EV Technology
When it comes to capabilities, the Hummer EV SUV lives up to its name and then some, but what about EV technology? Can all that power really come from a battery? Thanks to General Motors' Ultium battery technology advancements, the answer to that question is a resounding yes. This newest Hummer challenges every preconceived notion that might still exist about the viability of EV vehicles.
The Hummer EV SUV isn't quite a special use vehicle, but it is a trail-riding monster with a history of doing tough work in punishing conditions. That's a lot to live up to, and the Hummer EV does it and then some, all while creating zero emissions. The Hummer EV SUV is kind of an anti-Hummer. Known for being a gas guzzler in the past, this newest version is anything but.
The 800-volt, 350-kW DC Fast-Charging battery delivers an impressive range of up to 300-miles and can charge up to 100 miles of range for every 10 minutes it charges. Three motors work together to deliver the impressive performance stats: one in the front and one over each rear wheel. That's enough to reach 830 horsepower and 11,500 lb-ft of torque, but you can tailor the power levels by getting a model with two motors, not three. Set for production in Detroit at a 40-year-old factory that GM repurposed for EV capability, the Hummer EV represents a bigger global GM strategy to achieve an entirely all-electric fleet of vehicles by 2035. It's a great start.
Technology and Infotainment
The firsts aren't exclusive to the Hummer's off-roading capability or remarkable charging capacity and driving range. If you turn your attention to the interior cabin, you'll see that you're surrounded by next-level technology. There's a 12.3-inch Driver Information Center and a dash-mounted 13.4-inch infotainment touchscreen, both located within easy reach of the driver for optimal control.
Opt for the available UltraVision camera system, and your touchscreen turns into a control hub, offering up to seventeen different camera views, including a standard HD Surround Vision feature that displays the area immediately surrounding the vehicle. UltraVision is designed to monitor every millimeter of your Hummer – even the underbody – for precision off-roading that optimizes your path and enhances navigation capability.
All Hummer EV SUVs are equipped with an advanced Bose 14-speaker audio system. The system includes Centerpoint, a function designed specifically for the Hummer's interior cabin acoustics. It also includes Electric Vehicle Sound Enhancement, which incorporates Active Sound Management to minimize exterior noise and maximize acoustics, turning the Hummer's cabin into a roving concert hall.
The 12.3-inch Driver Information Center displays important data, including charge level and battery temperature. It can also set up charging schedules and locate nearby charging stations. A series of off-road widgets deliver an interface for selecting options like ride height and compass headings, and the available ProGrade Trailering App allows drivers to customize trailer settings and run through pre-departure safety checklists.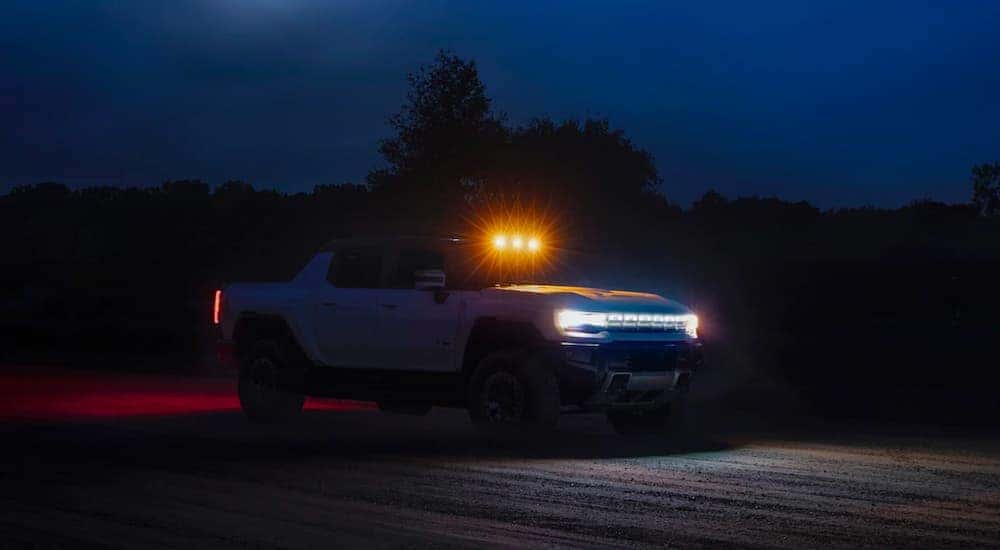 Marching Into the Future
The upcoming all-new, all-electric 2022 GMC Hummer EV SUV represents a full-circle moment for General Motors. The company comes out blazing with a major addition to its EV lineup. The fact that it chose this nameplate to headline the march toward an all-electric future isn't an accident. We love the irony; take a vehicle that was previously derided for its gas-guzzling tendencies and reimagine it for a zero-emissions future. It's a bold move that buyers are scrambling to be a part of.
Don't miss out! The Hummer EV SUV is already available for reservations, but if you don't reserve yours soon, you might be out of luck. Demand is equal to what we'd expect from such a disruptive new EV player, and we fully expect that every Hummer EV SUV that does land at Crossroads Chevrolet GMC won't stick around for very long.
It's an exciting time in automotive manufacturing history. We're seeing technological advancements that were unheard of even a decade ago. Soon, the EV landscape will be full of options at every imaginable price point and with features and capabilities that challenge even the most fully-equipped combustible motor alternative. However, it's going to be hard to beat the 2022 GMC Hummer EV SUV.