The Chevy Bolt EUV: The Electric SUV Of The Future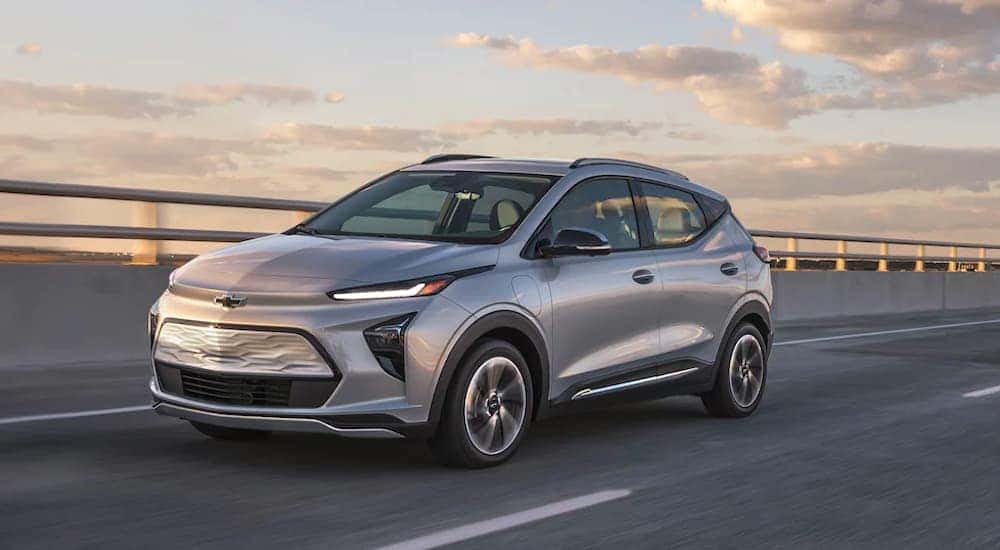 There are several Chevy SUVs on the market, but the upcoming 2022 Chevy Bolt EUV takes a unique twist compared to previous Chevy SUV models. You've probably heard of the Chevy Bolt, correct? If not, the Chevy Bolt is an electric car that first debuted in 2016. Since this model has been so successful, Chevy has decided to expand its technology to its SUVs, too. That's where the Chevy Bolt EUV comes in to play. In this article, we'll tell you all about the new Chevy Bolt EUV, detailing its features, its capabilities, and even the details of all three Bolt EUV trims. If eco-friendliness, fuel-efficiency, safety, and space are all important to you, then you'll definitely want to be on the lookout for this new Chevy electric model.
Abundant Technologies
First off, let's take a look at the Chevy Bolt EUV's electric technology. This model uses several methods to help capture energy and make your charge last longer. These include regenerative braking, energy assist, and one-pedal driving. Let's look closely at each one of these features.
First, let's take a look at what regenerative braking is and how it works. Basically, regenerative braking means that your Bolt EUV will store energy created from braking and redistribute it, making the battery last longer. Essentially, when you brake a car normally, you generate a lot of kinetic energy, but a regenerative braking system can convert that energy into stored energy in the vehicle's battery, giving you more power to use later on.
Energy Assist also helps maintain your battery and plan your travel by using real-time information to find the fastest and most efficient route, saving you unnecessary battery usage. In short, Energy Assist charts routes that offer enough charging stations to make sure you never break down or run out of range. Finally, one-pedal driving helps even more than regenerative braking. All you have to do is let off the gas pedal, and the Bolt EUV will come to a stop. This saves energy by removing the need for braking. Emergency braking is still available when you're using one-pedal driving, so keep in mind that you're not locked into an inability to brake manually; however, using one-pedal driving will help you to capture energy and is easy to use once you adjust to how it feels to drive.
There are also several different available charging methods. You can, of course, use your own home-based charger, and you can also charge at public charging stations. You can use the slower method, which is the 120-volt charge cord that plugs into any standard household outlet, averaging about 4 miles of range per charging hour (aka Level 1 charging). However, we recommend using the 240-volt charging unit (aka Level 2 charging), which can get you up to 40 miles of range in only 2 hours. This does require a special unit to be installed in your home, but Chevy is partnering with Qmerit to give customers who qualify a free installation of a Level 2 charging station. Also, with the Bolt EUV, you get a Dual Level Charge Cord that supports both Level 1 and Level 2 charging, so you don't have to fumble with different cords in order to get the right level of charging.
Lastly, some public charging stations offer DC Fast Charging, meaning you can get up to 95 miles of charge in about 30 minutes. This charging capability is perfect if you plan to take your Bolt EUV on a road trip, as you won't have to waste hours charging while on the road. Just use Energy Assist to plan your route, and you will be good to go.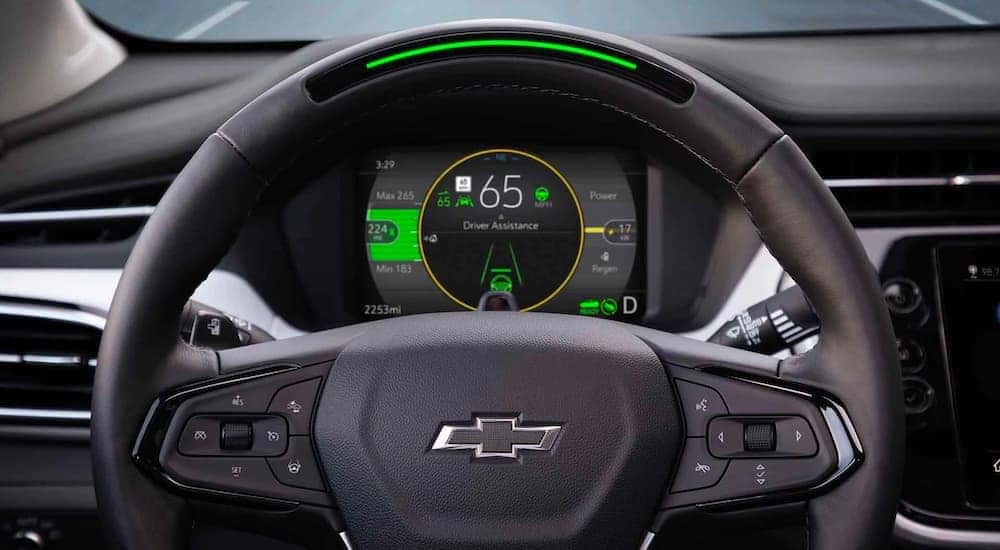 Safety Features and Convenience Tech
Any good Chevy vehicle comes with a plethora of safety features. For the Chevy Bolt EUV, this means implementing Chevy Safety Assist as a standard feature on all three trims. This security suite includes six different driver-assist features, including Automatic Emergency Braking, Forward Collision Alert, Front Pedestrian Braking, Lane Keep Assist with Lane Departure Warning, a Following Distance Indicator, and IntelliBeam Auto High Beam Assist. All of these safety features work together to keep you safer while traveling.
The Bolt EUV also comes with one very exciting feature that many of us have been waiting to see: Super Cruise. Super Cruise is GM's first hands-free driving system that is debuting for the first time on a Chevy vehicle. Yes, that's right, self-driving vehicles are not only real but are now easily accessible and affordable. Basically, the Super Cruise system tells you what roads are Super Cruise-compatible. Then, by using maps and other technologies, Super Cruise uses hands-free steering to guide you on your way.
This isn't like something you'd see on the Jetsons, however. Keep in mind that this driver assist feature will ensure that you pay attention to the road despite not needing to control the Bolt EUV's steering. You can't just start playing games on your phone or take up cross-stitching while you head to pick up the kids from soccer practice. Like any other driver assist feature, you still must stay attentive. The Super Cruise system is simply there to make driving easier, but it is not fully autonomous…yet.
While all of this tech is fun, we can't forget about some of the standard convenience features drivers have come to expect from modern vehicles. These include heated and ventilated seats, wireless device charging, Apple CarPlay and Android Auto compatibility, Amazon Alexa, and a Wi-Fi hotspot. You'll also get a push-button gear selector and a sunroof to boot. Overall, the 2022 Chevy Bolt EUV is not only convenient because of its electric motor, but it's also extremely tech-packed, with enough driver assistance features to ensure your safety on the road.
What Are the Differences Between Trims?
As you've already seen, every trim comes with standard Chevy Safety Assist and the Dual Level Charge Cord. However, the LT, the Premier, and the Launch Edition come with some noticeable differences. Let's take a closer look at these discrepancies.
The LT actually comes with some cool standard tech features such as Apple CarPlay, Android Auto, and wireless device charging. Once you move up to the Premier trim, though, you'll get all that plus leather seating, Adaptive Cruise Control, a Rear Camera Mirror, HD Surround Vision, and the available Super Cruise feature. Finally, the Launch Edition comes with these features, plus a panoramic sunroof, an illuminated Bolt charge port, and its own unique black wheels and Launch Edition badging to commemorate your special purchase.
So, if Super Cruise is essential for you, you'll want to skip out on the LT trim. Otherwise, it really just depends on how many luxury items you'd like. Even the base LT trim comes with impressive convenience and tech features, so you don't have to go expensive to stay modern in this case. However, to get the full 2022 Chevy Bolt EUV experience, we recommend at least trying the Premier version.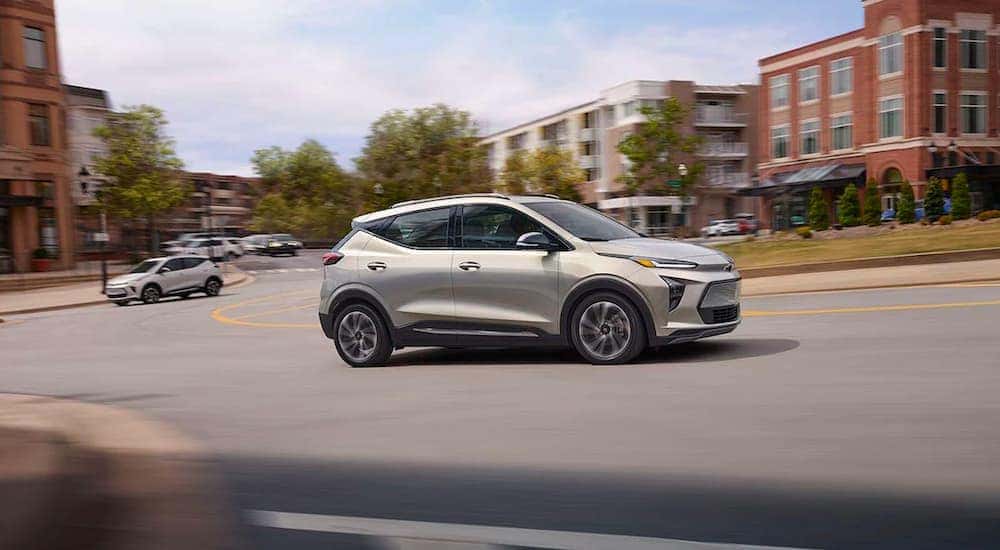 Aesthetics
The Chevy Bolt EUV looks like most SUVs in terms of shape, and its grille looks very similar to the classic Bolt's. So far, it comes in seven different colors, including Silver Flare, Mosaic Black, Summit White, Cherry Red, Bright Blue, Gray Ghost, and Ice Blue. Its interior options include Dark Ash Gray/Sky Cool Gray and Jet Black/Nightshift Blue. Again, keep in mind that the Launch Edition comes with custom features and unique wheels, and you can always upgrade your wheels on your own later on to really add a fully unique look.
Why Buy a Chevy Bolt EUV?
There are many reasons to purchase the Bolt EUV, but one lies in the fact that it can get up to 259 miles of range on a full charge. Second, trying out an electric motor does not mean you're sacrificing power. This little beast produces 200 horsepower and 266 lb-ft of torque with its 65 kWh lithium-ion battery pack. The days of being teased for driving an electric vehicle are over, thanks to Chevy's suave production of the 2022 Chevy Bolt EUV. Call or visit us today, and we will help answer any other questions you may have about this fabulous electric vehicle and tell you how you can get your hands on one when they release.