Top Three Chevy Vehicles to Own in Booneville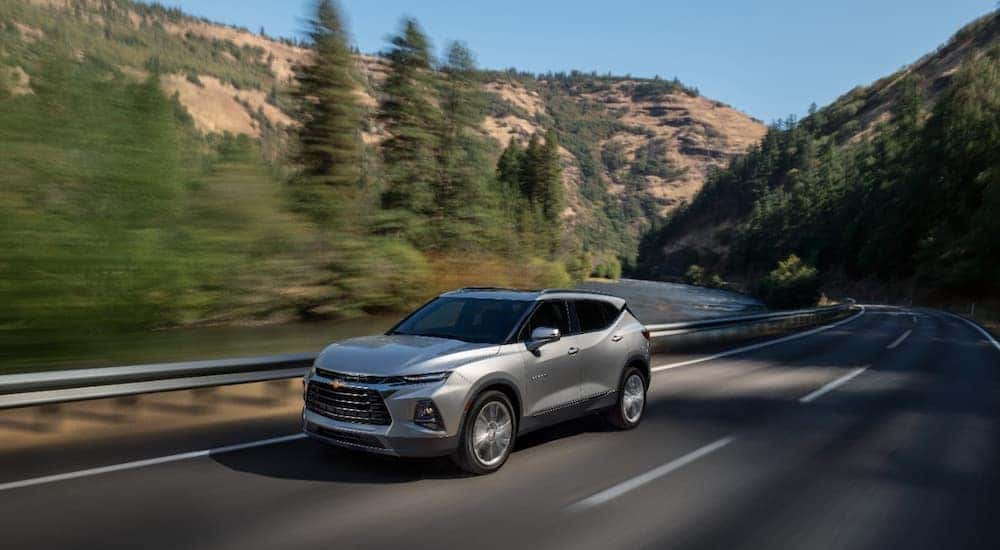 Booneville is a bustling community full of fun events and excellent ways to spend your day-to-day life. However, in order to get where you need to go, you need a reliable vehicle to take you there. As your Booneville Chevy dealer, Crossroads Chevrolet GMC has a wide selection of vehicles that are perfect for driving through town on the weekdays and out of town for fun on the weekends. Whether you're looking for a fuel-efficient vehicle in your life for commuting, something reliable for a road trip North West to Memphis or North East to Nashville, or you're looking for a vehicle for the family to take to one of the few parks in town, we've got a Chevy for you.
Why should you consider a Chevy vehicle when there are so many other manufacturers to choose from? Chevy is a legendary manufacturer with a history dating back over a century. Chevy's vehicles have been on American roads since drivable roads were first constructed. Whether you want a pickup truck, SUV, sedan, or even an EV, Chevy is the go-to choice for millions of enthusiastic drivers. At Crossroads Chevrolet GMC, it's our mission to match you with the Chevy vehicle you will be happy to drive and see sitting in your driveway or garage every day. Let's take a closer look at three Chevy vehicles that we wholeheartedly believe would graciously fill that empty spot in any driveway in Booneville.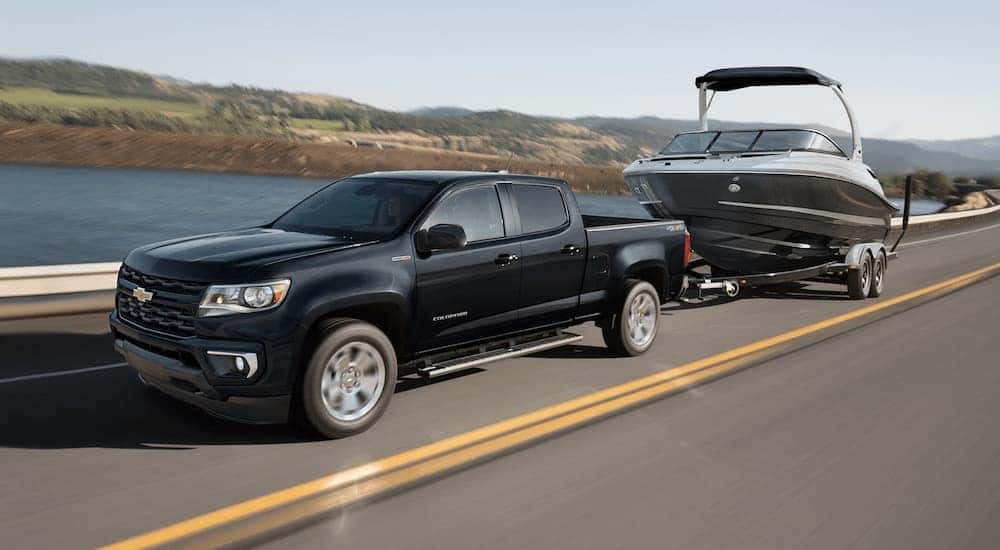 #1: The Chevy Colorado
The Chevy Colorado earns our recommendation because it is a competent pickup truck harnessing that legendary Chevrolet badging but doesn't cost nearly as much as its stronger siblings, such as the Silverado 1500 and the HD line. The brand-new 2023 Colorado is a fantastic place to start because it got upgraded engines and performance from years prior.
The 2023 Colorado swaps the trio of powertrains found in prior models, such as the 2022 and 2021 Colorado, for a new trio. For reference, the three engines previously accompanying the truck include a 2.5L I-4, 3.6L V6, and a turbo-diesel 2.8L I-4 engine. A six-speed automatic transmission is paired with the base engine and the diesel powertrain, and an eight-speed automatic transmission is paired with the V6. With the 2023 Colorado, each of the three powertrains (all variations of a 2.7L I-4) pairs with an eight-speed automatic transmission, and performance has seen an all-around increase.
The 2023 Colorado comes standard with a turbocharged 2.7L I-4 engine that outputs 237 and 259 lb-ft of torque, which is a stark improvement over the 200 hp and 191 lb-ft of torque that came standard the prior year. However, the maximum towing capacity for the base powertrain remains at 3,500 lbs. Moving up to the 2.7L Turbo Plus I-4 or 2.7L Turbo High Output I-4 engine caps out at the same maximum towing capacity of 7,700 lbs as the years prior.
The 2.7L Turbo Plus I-4 engine increases the power output to an impressive 310 hp and 390 lb-ft of torque, with both specs outperforming any powertrain that preceded it, and it only gets better. Stepping up to the new 2.7L Turbo High Output I-4 engine increases performance to a whopping 310 hp and 430 lb-ft of torque. The 2021 Colorado capped out at a maximum of 369 lb-ft of torque, so the improvement is immediately noticeable. Additionally, your Colorado will give you a maximum of 49.9 cu.ft. of cargo space if you opt for the long bed, while the short bed still offers an ample 41.3 cu.ft. of space. If your job has you regularly hauling cargo in and around Booneville, the Colorado will be your best companion.
#2: The Chevy Blazer
The Chevy Blazer deserves the praise it receives from fans and critics alike. The Blazer isn't only one of Chevy's most popular SUVs in its lineup, but the Blazer is one of the most popular midsize SUVs you can generally purchase. Why would we recommend the Blazer over something like the Equinox? While it's true the Equinox is more cost-effective than the Blazer, the Blazer is a vastly superior SUV in regards to tech, cargo space, power output, and towing capacity. The Blazer is a wonderful vehicle to invest in if you'll be running your family all-around Booneville. With that said, the Blazer is an excellent commuter with phenomenal fuel efficiency, depending on which powertrain you opt for. Additionally, the benefit of a drive-mode selector means you can expect the Blazer to perform aptly in a wide range of scenarios, from towing, driving on rain-slicked roads, off-roading, and more.
With 64.2 cu.ft. of space to work with, the Chevy Blazer can hold the belongings of yourself and your family as you take a road trip or bring along some fun activities to do at Booneville City Park or Westside City Park. The Blazer is also the perfect vehicle to travel with other people, like if you're bringing friends or family down to the Harris Skating Rink for roller skating, laser tag, arcade games, and much more. Because the Blazer is a midsize SUV, you and your passengers will fit more comfortably within the cabin than you would in a compact like the Equinox or a similarly sized SUV from competing manufacturers.
The 2023 Chevy Blazer comes standard with a turbocharged 2.0L I-4 engine. Like the 3.6L V6 engine that's also available, the turbocharged I-4 is paired with a nine-speed automatic transmission. The turbocharged engine provides ample performance and stellar fuel efficiency, whereas the V6 engine turns the tides and provides better performance with slightly less fuel efficiency.
With the base engine, the 2023 Blazer outputs 228 hp and 258 lb-ft of torque. The maximum towing capacity of the turbocharged I-4 engine sits at 3,500 lbs, which is a stark increase over the 1,500 lb capacity of the Equinox. Stepping up to the aforementioned V6 is the move to make if you care about performance. With the 3.6L V6 engine installed, the 2023 Blazer outputs 308 hp and 270 lb-ft of torque, which is a 35% and 4.6% increase in horsepower and torque. The maximum towing capacity of this engine is also better, with a maximum of 4,500 lbs.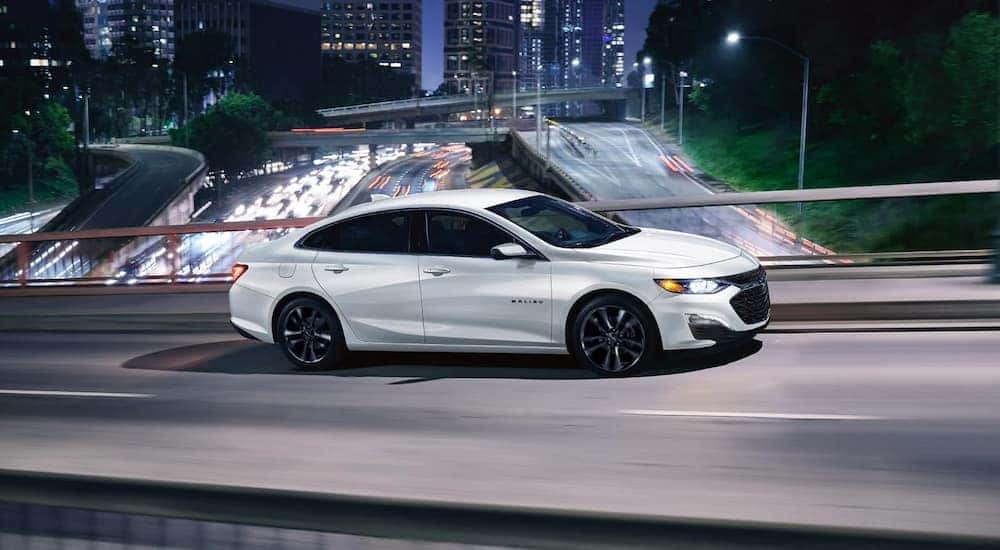 #3 Chevy Malibu
The Chevy Malibu is a sedan that's hard to ignore. The Malibu has an accessible starting price and fantastic fuel efficiency. Additionally, performance can vary significantly depending on the powertrain you purchase. The Malibu is available with one of two powertrain configurations, both of which are turbocharged. The base engine is a 1.5L turbo I-4 engine paired with a continuously variable transmission. The power output is a respectable 160 hp and 184 lb-ft of torque. Aside from generous base-level performance, the true selling point of this base powertrain is its fuel efficiency. With the turbocharged 1.5L I-4 engine, the Malibu earns EPA-estimated ratings of 29 MPG in the city and 36 MPG on the highway, but like the previous vehicles we've mentioned, you can opt for more power if you choose.
Something we recommend to Malibu shoppers is to invest in the turbocharged 2.0L I-4 engine. Unlike the base powertrain, the turbocharged 2.0L I-4 engine is paired with a nine-speed automatic transmission, and performance is increased to 250 hp and 260 lb-ft of torque. While this engine does have a lot more power than the base, it has slightly less fuel economy, with 22 MPG in the city and 33 MPG on the highway. Still, fuel efficiency like this ensures your Malibu will get you anywhere you need to go. With 15.7 cu.ft. of available cargo space, you can bring your leisure equipment along, such as your golf clubs for a trip to the Booneville Golf & Country Club for some rounds of golf on a beautiful sunny day. Like the other Chevy vehicles, the Malibu is a smart investment for those in the market for a new vehicle.
Match Your Vehicle to Your Community
Booneville is a wonderful place to live, and you need a vehicle that is just as wonderful to match. Any Chevy vehicle can serve you well, but we think the three we listed here are some of the best for those who call Booneville home. Whether you need something to take you on exciting adventures to some of the closest major cities or something casual to handle your daily commute through town, we can help you find it here at Crossroads Chevrolet GMC.