Why Servicing Your Vehicle at an Authorized Dealership is Always the Best Option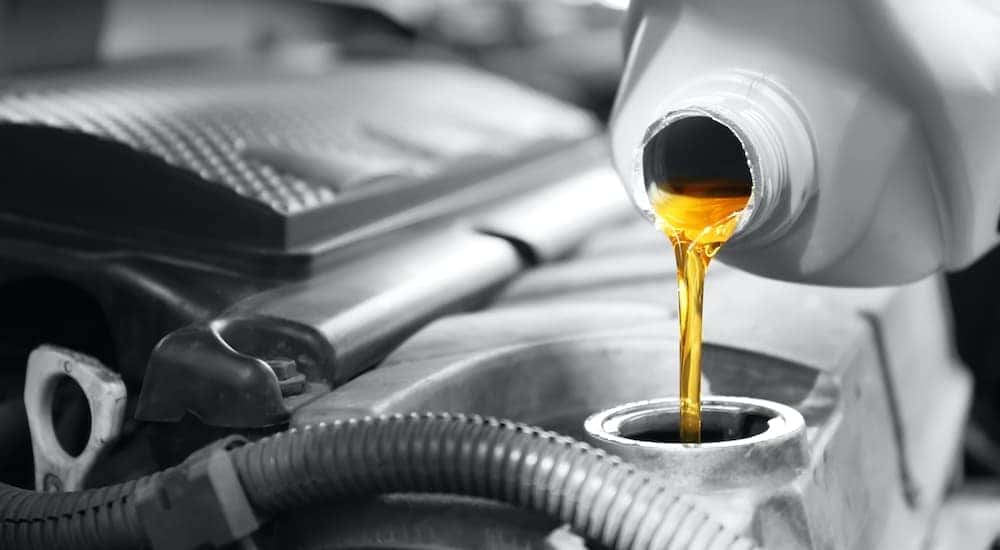 Among all the Chevy dealers in MS, one thing is for certain: they're lucky enough to stock some of the most exciting inventory of new cars in the industry. Between the hybrid, hybrid plug-in, and electric vehicle (EV) models, and some newly redesigned favorites like the Tahoe, Chevy dealers are in a unique position to truly offer something for everyone, regardless of budget or tastes. The best dealers know that selling a car is only the beginning. Offering high-quality, professional maintenance and repair services is high on the list of customers' must-haves. But can you take your Chevy to any dealer in MS for service?
You have a lot of choices for new and used vehicle service in Mississippi, but the best spot to service your car is at an authorized Chevrolet dealer. Why? Authorized dealers employ experienced factory-certified technicians that know Chevy vehicles inside and out. They'll only use genuine OEM parts, and they're trained to handle everything from routine maintenance to complicated repairs and aftermarket parts installation.
Many people think of dealership service centers as expensive and inconvenient, but that's not necessarily the case. Here at Crossroads Chevrolet GMC, we offer highly competitive prices on both parts and service. It doesn't matter if you need a simple oil and filter change or a comprehensive engine overhaul; our prices are always fair and designed to make it easy for you to choose our state-of-the-art service center to keep your vehicle running great. Combine that with online scheduling and extended hours, and we're not only an affordable option – we're a convenient one too.
Our Services – Regular Maintenance
All vehicles come with a road map for optimal performance and reliability. It's always handy, right in the glove box: it's your owner's manual. The owner's manual contains everything you need to know to keep your car running smoothly and avoid long-term hassles and repairs. We recommend always following the manufacturer's recommended maintenance schedule. This ensures that your vehicle's most expensive components, like the engine and transmission, are protected from damage caused by excess wear and tear.
Oil changes keep the inside of your motor clean and well-lubricated. Clean oil maintains its viscosity (thickness) longer, and if your oil is old, it's full of particulates, dirt, and grime. Eventually, that dirty oil can't do its job of keeping the motor clean. It loses viscosity, starts to build and clog up the works, and becomes damaging to engine components. Older cars require an oil change every 3,000 miles, but thanks to technological advances in both engine design and motor oil quality, that interval is a lot longer. Also, newer vehicles have diagnostic tools that monitor oil quality and alert drivers when it's time for an oil change.
Well-maintained brakes mean no cracks on the rotors, brake pads that show no signs of wear, and properly-fitted and torqued components. It's inevitable that your brakes will require service, but waiting until something's wrong can really compound the problem – and the expense associated with the repair. Servicing your vehicle at a Chevy dealership means regular multi-point inspections that include checking your braking system and making repairs proactively.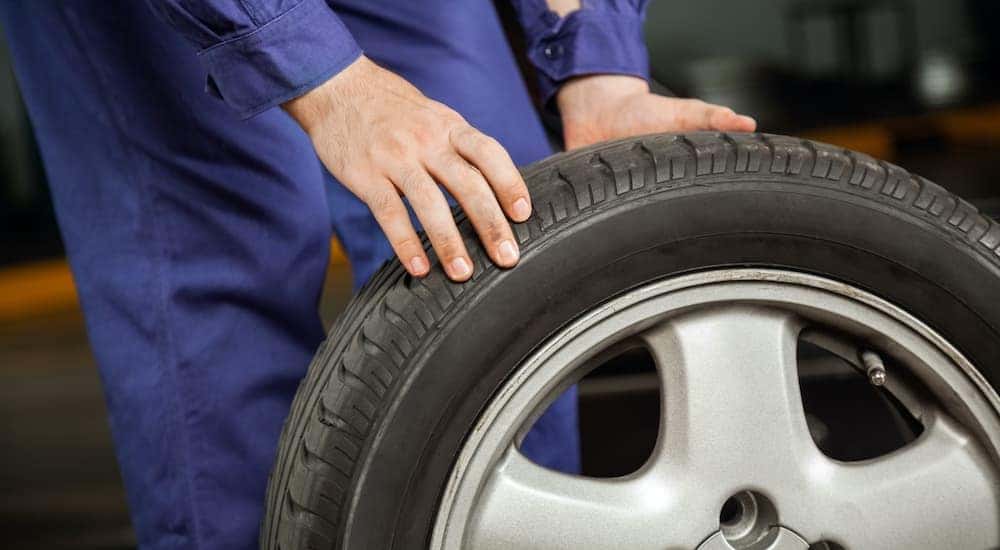 Our Services – Tires
Keeping an eye on your tire tread wear is one of the most important steps to keeping everyone safe while on the road. Nothing is scarier than a tire blowout on the highway, and while you can't avoid every nail in the road, you can make sure your tires have adequate tread. It's an easy process: simply insert a penny into your tire's tread. If you can see Lincoln's head, it's time for new tires.
There are plenty of independent tire stores vying for your business, but they're committed to selling specific brands. Their sales representatives are incentivized to try to add on expensive extras, like seasonal (winter/summer) tires, upgraded wheels, and a whole host of services that you may not necessarily need or want. You shouldn't choose a store that is trying to make you buy far more than you need, which is why getting your tire service done at a dealership is the best way to go.
We carry a large selection of quality replacement tires that are installed by qualified, certified technicians. We carry all the best brands, including BF Goodrich, Bridgestone, and Michelin, and our robust inventory means we'll most likely have your tire size on hand. Just schedule your appointment, drop off your car, and we'll handle the rest. As for the price, don't worry! Our Tire Price Match Guarantee assures you're getting the best possible price for your new tires. Simply show us a better price up to 30 days after your purchase, and we'll refund the difference.
Our Services – Parts
Great dealerships maintain well-stocked parts inventories because having a part on hand means less waiting time and fewer repair delays. At Crossroads Chevrolet GMC, we stock a variety of genuine GM parts, along with accessories and common replacement items like windshield wiper blades and bulbs. We're constantly looking for unique aftermarket accessories to help you personalize your Chevy. Accessories like license plate frames and upgraded weatherproof floor mats make your vehicle uniquely yours, and our pricing makes it easy to grab a few extras while your car is in for service.
What are genuine GM parts? OEM – or Original Equipment Manufacturer- means parts that are made by the factory specifically for your vehicle's year, make, model, and trim. General Motors builds replacement parts for all vehicle components, including powertrains, interior finishes, and exterior body parts. Taking your vehicle to an independent body shop means risking the mechanic using aftermarket parts. These parts are not designed specifically for your Chevrolet, so you're setting yourself up for shorter part life and other potential issues. Certified dealers use only GM certified OEM parts, so there's no guessing game and no unreasonable upcharge.
It's easy to forget that routine maintenance like oil changes and brake service still incorporate changing out parts. You're getting a new oil filter, new brake pads, and sometimes new rotors or calipers. Choosing a Chevy dealer for service means consistency. You'll get the same brand – and blend – of motor oil, the same filter, the same brake pads, etc. When it comes to vehicle service, the same is better.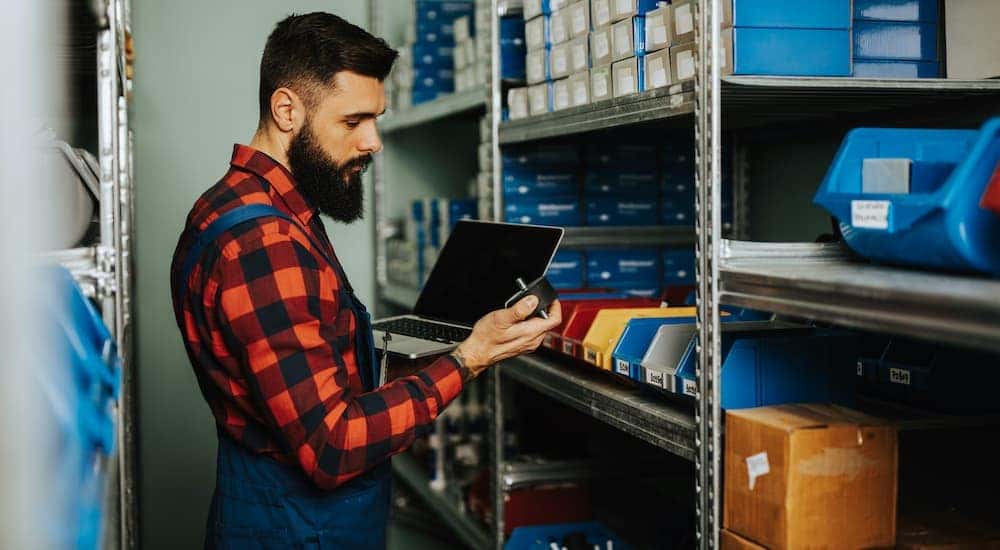 Visit Our Service Center
Owning a new or used vehicle is a big responsibility, and to get the most value out of your investment, it pays to follow the manufacturer's recommended maintenance schedule. When you service your car at an authorized Chevy dealership, you're protecting your investment. Our service facility is staffed by Chevy technicians, and we only use genuine OEM parts, which means consistent performance and reliability. That translates into a better ownership experience and a higher residual value if and when you decide to sell or trade your car.
Our team in our West Corinth service center is able to handle any repair and routine maintenance your car may need. In the unfortunate event of a major mechanical problem, we're equipped with the diagnostic tools and equipment necessary to get your vehicle back on the road quickly and affordably. As a Chevy dealer, we're the first to know about vehicle recalls and can expertly guide you through warranty and non-warranty repairs.
Don't trust your Chevy car, truck, or SUV to just anyone. Know who is working on your car and be absolutely certain they're using high-quality parts that won't let you down when you least expect it. Trust your car to Crossroads Chevrolet GMC because we know Chevrolet vehicles, and we're committed to making your service experience convenient and affordable. Visit our service center or schedule a service with us today.